Discussion Starter
•
#1
•
So I think one of the biggest benefits of the dyno run yesterday was that we got to see a comparison between the two IDI "upgrade" cams, The tried and true Typ4 "Torque" cam and the new J2 "powershaft" that NMB2 and I have in our trucks.
After I made my runs, and Russ made his runs, we overlaid the graphs and this is what we got: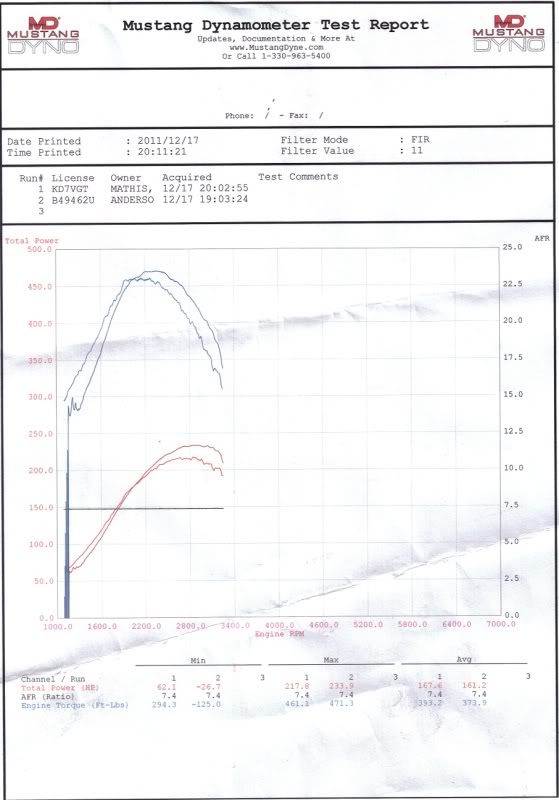 Now, instantly when I saw the graph, I thought, holy crap, the Torque Cam handed the J2 cam its ass, and in a lot of ways its did. It has a serious ramp and a flat top, flatting out at around 1800 and tapering off at just over 2200. The J2 cam flattens out at around 2200 and starts dropping around 2500... This is all on the Torque side of things, which most consider to be the bread and butter of a diesel engine.
As far as hp is concerned, the Torque cam and J2 cam rise similarly with a slight (but probably un-noticable) advantage to the J2 cam, until the torque cam falls off at a little over 2800, and the J2 cam keeps pulling until redline (and maybe even past, my gov kicked in shutting stuff down).
Now a quick glance at the chart would make most not even want to consider the J2 cam. However, in discussion with Russ, and even more now that I have driven my truck on the freeway since and looked at what the RPM's are doing, We both believe that the J2 cam benefits those with 4:10's better and the Torque cam benefits those with 3.XX:1 gears better. My truck cruises 60mph at 2200 with 4:10's and stock tires and Im right smack dab at my torque peak on the freeway...
Basically, if you like to drive fast or even with traffic for that matter, and you have 4:10's or higher (or equivlent in tire sizes... essentially 2200 or above on the freeway) The J2 cam is probably gonna be a better choice, but if your spend most of your time in the Sub 2k range, the typ4 cam is going to be better suited to you.
Russ, do you have anything to add/change??