Discussion Starter
·
#1
·
Can't figure out how to post up an image of your truck or anything else you'd like to show? You've come to the right place... this tutorial might be a little bit long, but it tells you everything you need to know about hosting your image(s) and posing them up here
:thumbsup:
Step 1:
Now, first thing's first. You must have an image to begin with, so find where it is located - I will use one of mine as an example. The picture I will be posting is in the "Pics for collages" folder on my computer, the picture can be anywhere on your computer as long as you know how to get to it!
NOTE: you should have two tabs or windows open at the same time to make this easier.
Step 2:
Now open up your internet browser (Firefox, Internet Explorer, Opera, etc.). There are many different places that will host your image. We will use
PhotoBucket
, it's free..... so head on over to
Image hosting, free photo sharing & video sharing at Photobucket
.
Step 3:
At the top right, click on Join Now and on the next page type in any username you would like and a password then click on Next Step. On the next page, type in your:
- First name (can be real or fake)
- Last name (can be real or fake)
- Email
- Gender
- Birthdate
- Zip code
- Type the letters/numbers you see in the image in the text box
Step 4:
Click on "I accept, sign me up!" and you're now registered! Navigate through any other pages until you get to the one that has in big letters "Upload Images and Video" at the top. Click the blue button "Choose Files" and a box will open. Navigate to your image and double-click on it: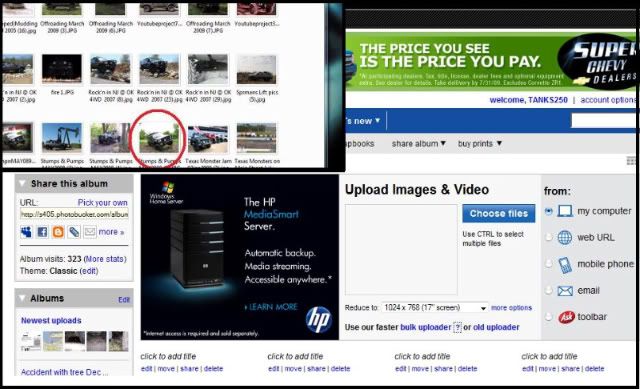 Your image or images (you can select more than one to upload at a time) will now automatically begin to upload and you can see the progress on the bar(s) that appear. When all the images are done uploading, the page will refresh itself and show your images a little bit further down.
Step 5:
To post the image to this website, put the mouse over the image and 4 bars will appear under it with text in them. Click inside of the bar at the bottom with the code and the line of text will be highlighted, then right click and click on Copy or while it's highlighted you could hold down the Ctrl key and press C for copy.
[CENTER][IMG]http://i405.photobucket.com/albums/pp138/TANKS250/how%20to/post%20pics/howto3.jpg[/CENTER]
Step 6:
Now come over to the forum here (you should have two tabs or windows open at the same time to make this easier) and in your post, right click and click on Paste or hold down Ctrl and press V. Your code should look like this:
Now you're done!