Discussion Starter
•
#1
•
Hi everyone, I'm new to the forum from northwest Indiana. I got my first powerstroke about a year ago and I'm looking for some ideas on what to do next? I was thinking about selling it and get a 4 door but I think I'm going to keep it for a while longer.
My truck is a 2001 f250 reg cab. Every thing that was done to it was done by the guy who owned it before me.
It has 2 gauges (trans temp and exhaust temp)
a K&N cold air intake (going to get rid of that ASAP now that I have done some research about them)
4in turbo back exhaust
The guy I bought it from said the trans had some mild work done to it. I do not know much about transmissions so i hope these were all good upgrades. He told me it had a heavy duty torque converter, different valve body, heavier clutches, and different shafts.
Now that I have had it for a year I'm trying to decide what to do first with the upgrades I have? I'm thinking getting some good programming should be my first step?
So far I love the truck except for the tires that came on it. It came with Mickey Thompson tires and they create way to much road noise in the cab.
I'm also looking for ideas to improve the look so if anyone has some ideas let me know!
This winter has not allowed me to clean my truck very well so I don't have any good pictures right now but here is a pic from the add when I bought it.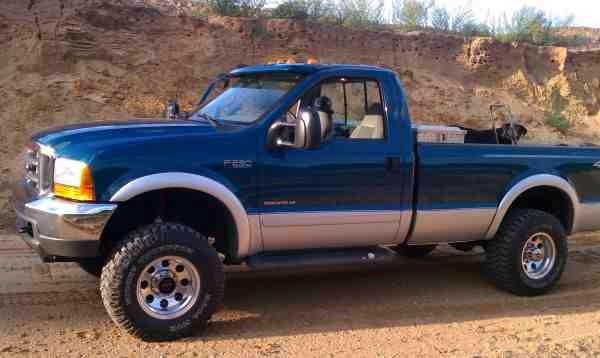 Thanks guys!