Discussion Starter
•
#1
•
Over 6 years ago I wanted a new truck...I wanted to build it myself...and I wanted it to be different then every other swinging d1cks truck on forums.
As most of you know, I started by putting Bushwacker Cutouts and 36's with no lift when it was only 6 days old....even though everyone said it wouldn't work and that it would rub badly.....and they were wrong.
Then over the next 5 years, mod after mod after another custom mod....my truck is what it is today....some like it, some don't...I don't care either way.
My truck is paid of now, and doesn't even have 60,000 miles on it yet.....so I've been thinking about getting a new one.
I've been looking at a new SRW F250 Diesel......and how I could once again modify it how I want....and into what I think is MY dream truck version 2(I already have version 1).
As most of you again already know....I prefer big tires with VERY minimal lift...which usually consists of cutting metal and installing Bushwacker Cutouts......
Well....after looking at a new DRW sitting right next to the SRW, and doing some measuring....it looks VERY easy to accomplish.
Buy 4 dually fenders, 2 of which will mount directly up to the rear, and the other 2 can EASILY be modified to fit the front.....I give you a glimpse of ....BEAST v2.
(sorry for the horrible photoshop...best I could do with MS paint...LOL)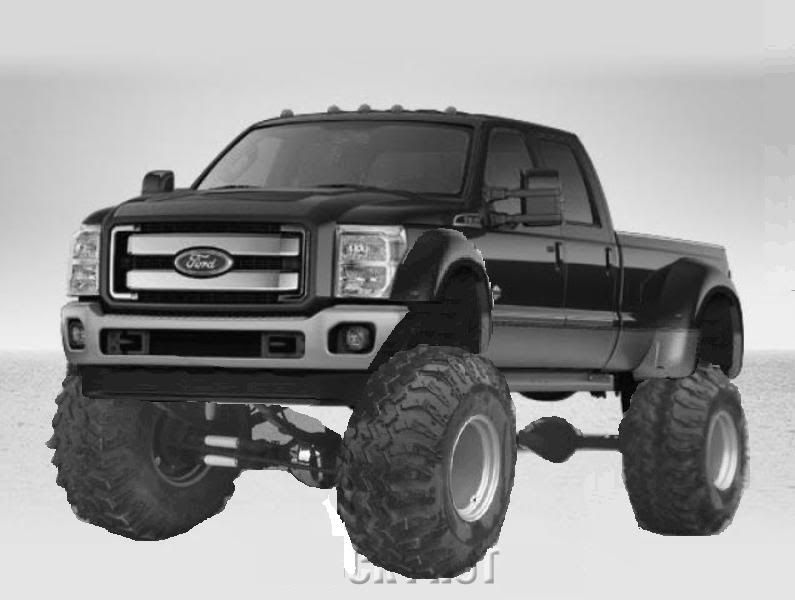 .

I think the dually fenders up front will look sexy as HELL !!!!
.