Discussion Starter
•
#1
•
We have a customer locally that bought a 2004 King Ranch dually with 22.5's on it. Ever since he has owned it, he has wanted super singles on the rear and not the standard dual 22.5's like what was on it. I personally didn't like the idea, but its not my truck. Upon many phone calls and lots of research, we found that the smallest super single tire available was 40" tall. Anyone that knows out trucks knows that a BIG honkin' tire. After the customer kept on pushing for a super single in the rear, I had a buddy that does all my semi tire stuff for me, he happened to have a 22.5" x 14" super single available and a super single tire available, so he mounted it up for me and we took it to the shop and did a test fit. The tire and wheel went on but it it on both outside edges of the bottom of the fenders. So after we get it on, we take pictures, get him out to look at it, and he loves it. But in order to get this tire to work its was going to either take pretty invasive fender modification or it was going to take some lift. The customer was totally against a lift, if anything, he wanted it lower. After we got some prices on what it was gonna take to install, he said he needed to hold off for a while. During this time about 2 months we kept in contact and I tried diligently to talk him into just getting 22's or 24's shaved down, then he could lower it and have two wide tires on each side with only a small gap between them, almost giving the illusion of one big tire (to an extent). He still wasn't interested in that. So, the time comes and he brings us money and the truck and says make it happen, do whatever fender modification need to be done. So with that said..we got started. This is not finished by any means, this is just some progress.
22.5" x 14" Alcoa Super Single with a Bridgestone Greatec 445/50/22.5 tire
installed and fenders cut enough for tires to roll (not pretty)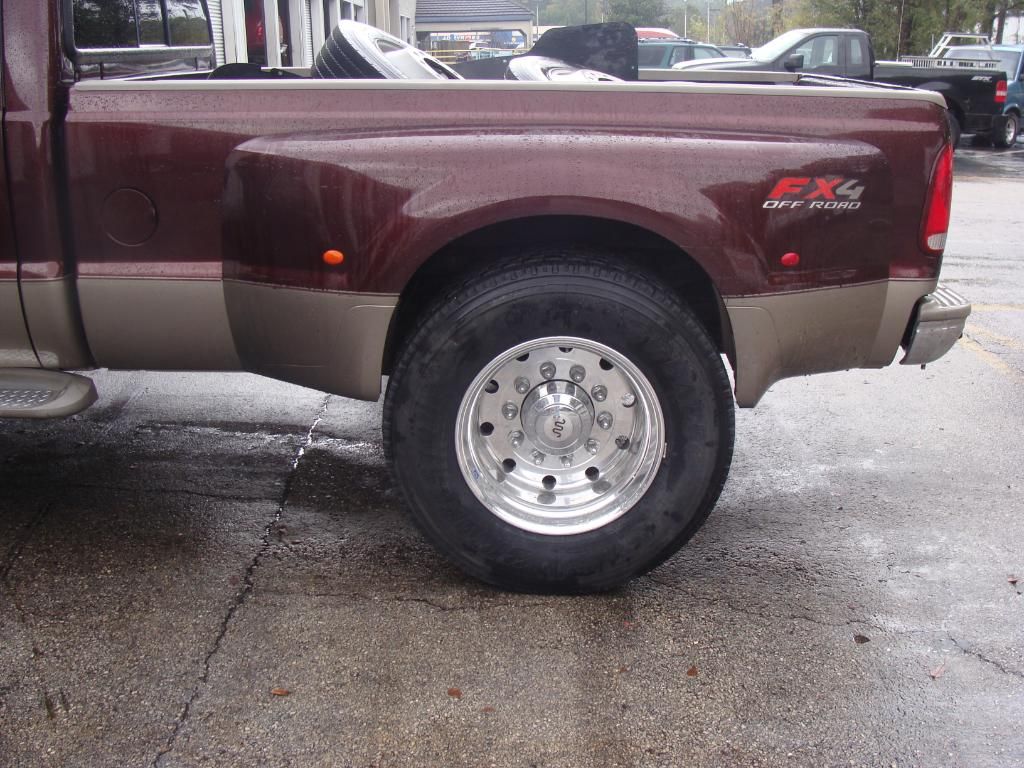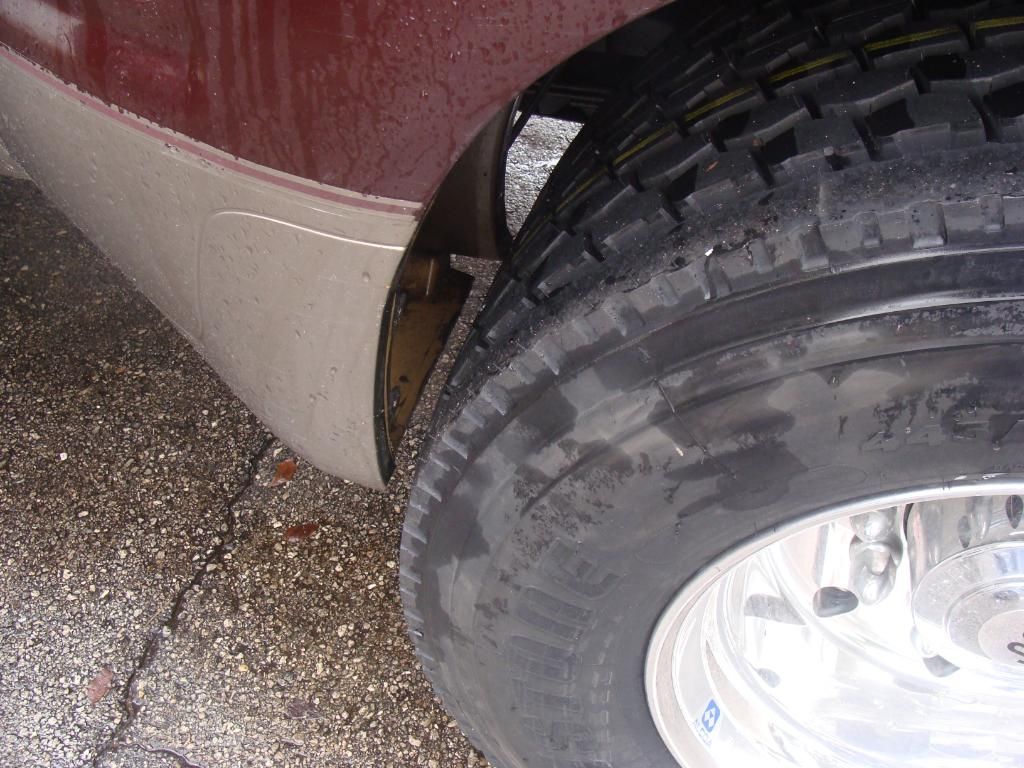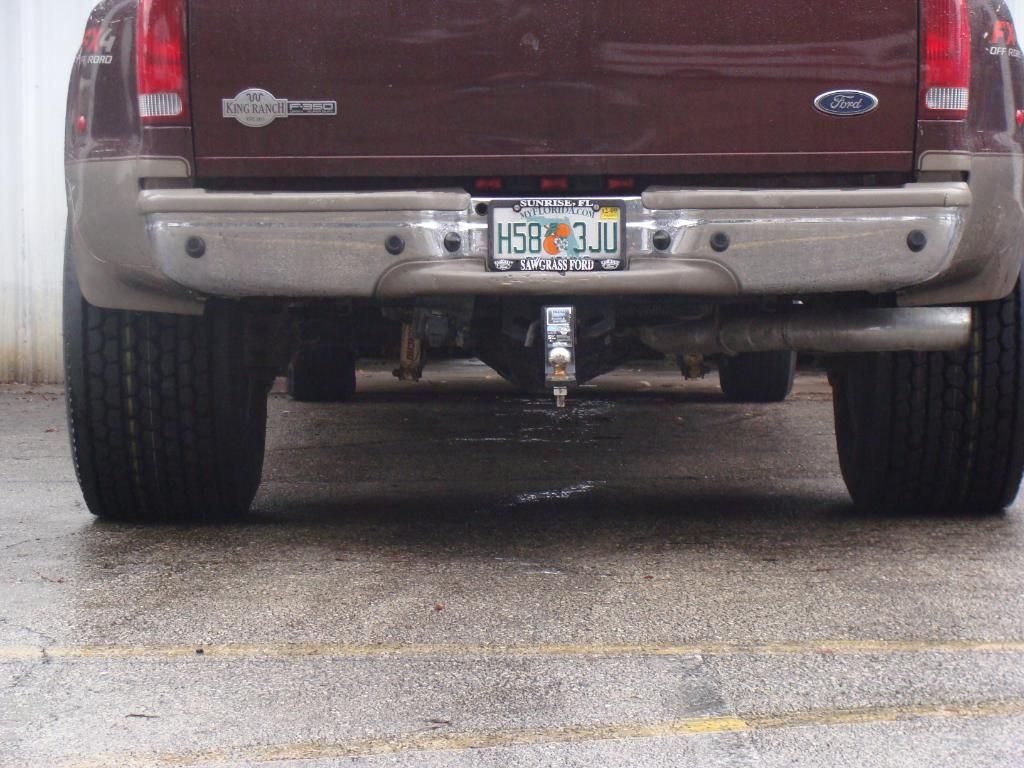 From this point we decided that the distance from the top of the tire to the bottom side of the fender clearance wise looked pretty good, it was the distance left to right that obviously was the issue. We discussed it with the customer and he felt like that would look best also, since the customer will not be regularly towing, we talked about removing the rear block also to drop it down a bit, he agreed. We took the block out and then marked what needed to be cut out to follow the circumference, and this is what we have to date;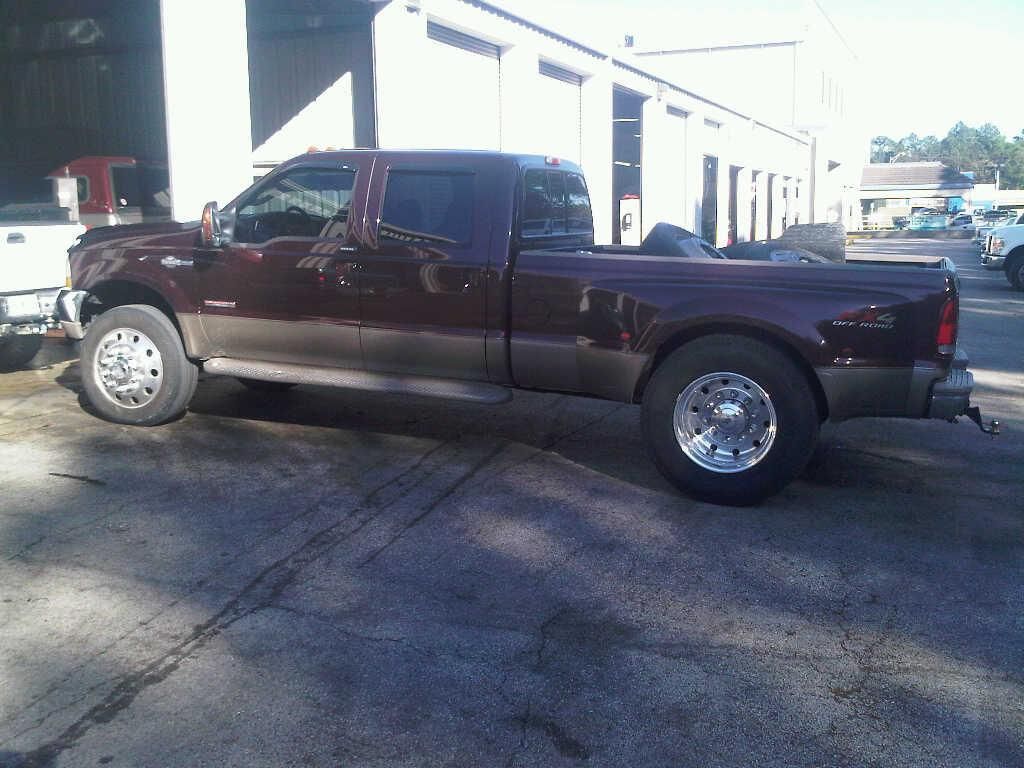 this project isn't done yet, we have a friend that is a body shop guy that paints and fabricates. He is smoothing the cuts out and he is going to install an aluminum liner to replace the factory plastic liner and the aluminum will either be undercoated or we are going to try and rivet some ABS plastic over the aluminum to try and retain the factory style look. I know this look inst for everyone, I wasn't too keen on it at first, but its kind of growing on me. Also keep in mind the front tires are going to be changed out to match the profile of the rears and the necessary modifications will be made there also. As far as we know, this is the ONLY truck stock height with super singles on the rear.