Discussion Starter
•
#1
•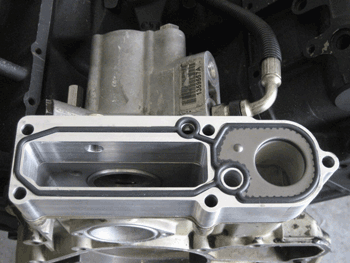 Dieselsite HPOP Reservoir Filter Adapter for 1996-2003 7.3L
I have been toying with the idea of this for a little while now. Actually since I first saw them last year. I played with one a little bit in Bob's booth yesterday. The one I looked at yesterday was a really really nice piece. Is anyone here with an OBS running one? I have been also trying to think of other ways one might be able to incorporate the filter into the front cover like a filter that friction fits internally.
I am trying to run down in my head what all will be needed on my truck to make this work with the Dieselsite piece. I might have to tweak on the bracket that mounts the regulator to lower it. I am also thinking it might be easiest to switch the EBP sensor over to a SD one but fabbing up a new EBP sensor line that is longer is certainly possible and not difficult.
Bob also had a very nice looking new cover for the HPOP bolt which uses an O-ring instead of silicone that he has just made.
From an old thread but good info for here
Tom,

My original prototype was 3/4" tall. However, the same amount of time/ money was involved, so we looked for ways to "expand" it's use to add more bang for the buck. Since 1/2" or 1.5" didn't change the fact that things might need to be be adjusted, the 1.5" let us add the ports. However, 1/2" would be about as thin as we could go. The unit has to be tall enough to accept the o-ring grooving and still have some meat under it or it would break.

We looked into many ways to filter the oil to the HPOP. In addition to the HPRA we are currently working on a version that would divert the oil from the reservoir through a spin on filter and back to the reservoir before the HPOP gets a chance to see it. That may or may not be a good way to do it. We will need to make sure that the oil pressure will not drop etc before we ever move forward on manufacturing that. It would absolutely eliminate the issue shown in the pics above though.

I have also met with a magnetic filter manufacturer for an option that could go in a new oil tank that I am working on. Might just be a one-off for my truck though. Can't seem to duplicate the tank cheaply and it is BUTT UGLY.

The new LPOP that we will have for show and tell at TS will be running in my OBS truck before I leave for TS. We'll finalize testing when I get back. Maybe it will be something I have to offer soon enough as well if it shows any promise or need.

I have a 94-95 version of the HPRA done, but am waiting till I run a new batch of the current models to run those. I can certainly make some "short" versions of the HPRA at the same time. While it won't reduce the cost, it might work better for folks like you. Let me know if this is the case. I have no problem making a few of those. FILTRATION IS KEY TO THE HIGH PRESSURE OIL SYSTEM. Hydraulic systems have a 5 micron filtration requirement to work properly and not wear. Why should our HPOP system be any different.

Bob
The oil tank idea is interesting and the drop in filter to go inside the tank is even more so.
How about a drop in filter to go in the front cover under the reservoir on the OBS trucks
? Very easy to install and would help protect the stuff down stream of the reservoir