Discussion Starter
·
#1
·
I was asked to print up the info that I had about setting up Excursions alignments and other recommendations by the experts that had posted on this in various forums on the net. I consolidated info from a large number of threads and shop manuals to put this together in one place. Its rather lengthy to say the least. I am sure it coudl be arranged better and likely more detailed info added but this I think gives the core important info. When things are spoken in the first person it should be understood that this is not me stating something but that of those that posted the info that I have then re-posted here as part of this whole post. Sorry for any typos or miss-wording it got late and I am a bit punchy.
OK I went thru and found everything I could on our Excursions and getting them to track steer correctly. This also directly applies to F250s as well as other than the leaf springs they are the same. Specifically properly setup alignments and specifications, what to check for in diagnosing issues and possible causes and corrections. Some of the things I learned showed there is quite a bit of misinformation out there. How scare shops that have mechanics that can and will setup a proper alignment are becoming and just how important finding one of those is to get a your vehicle setup correctly. It is actually no very dificult but does take time and attention to detail.
1.
First check and adjust your air pressure to factory recommended pressures on the door sticker. NOT THE TIRE MAX PRESSURE. If your tires can't take that much air then you have the wrong tires and that's probably your problem.
2.
get an assistant for this. Have your assistant slowly move the steering wheel side to side with the engine off while you look at all the steering linkage from underneath. This will tell you if you have a bad tie rod end, pitman arm or anything like that. Any movement in them is bad.
3.
For this step you will need to jack up the front tires.
Jack up each tire about 2 or 3 inches off the ground and have your assistant put a big prybar underneath. Then try to jack it up and down while you look at the ball joints from underneath. If you see any movement at all with just a person jacking the tire up then that ball joint is bad.
4.
Put that truck back on the ground jump on each corner to settle the suspension back out and then with a tape measure or a ruler check your ride heights on all 4 corners.
On the fronts of our trucks you check it from the frame above the front bump stops to the axle on a 4x4. Same place if it's IFS front end.
On the rear I like to check from the axle up to the frame.
You should have even numbers across the front and back.
If you have done a leveling kit then your alignment is probably whacked. Leveling one of these trucks really screws up caster at a minimum.
If you have one corner lower than the opposite one then check for bad bushings that can cause it.
5.
Since you have the jack out. Jack up each wheel and spin it. Make sure the wheel can spin with out binding as it does so. This can point to a warped rotor or other brake issue as well as hub or unit bearing. Address as necessary
6.
Check for play in your steering wheel with the engine running. I say an inch of side to side movement is acceptable before the wheels respond but no more than one inch. Since you have already eliminated the front end as a problem then you should adjust the steering box now. I recommend changing the fluid in it too. It never hurts and rarely gets done till somethign fries anyway. (If you overtightened the lash adjustment you will likely find the steering wheel will no longer return to center after a turn.) If you still notice play in your steering wheel you should check the intermediate steering shaft. this is the rod that travels thru the firewall. People have found upon removal that up to a inch of play can be found in the joint when worn. If these do not correct the issue the steering gear box may well be worn to much. I highly recommend NOT replacing the box with another from FORD or other OEM replacements. These have all been found to be very hit and miss as far as tightness and quality. I strongly recommend purchasing a replacement Steering box from Red-Head Gear
http://www.redheadsteeringgears.com/
. These have a excellent reputation for high quality and a a huge step up is steering performance.
7.
If you are still having problems then look for irregular wear patterns on your tires. Scrubbing, cupping, inside or outside wear? If the tires look ok and it's a pull you are trying to diagnose then flop the front tires side to side. If it pulls the other way then you got a bad tire.
8.
General Guideline to Alignment Shops: Find an alignment shop if none of this helps but call around first. Be very weary of shops that have a one price alignment. These places are usually much more worreid about speed and time than getting it done correctly. A proper alignment can sometimes be time consuming you do not want them taking short cuts to keep the profit line. A good shop and mechanic will take the time needed to do it correctly and should be well worth the money for the time it takes to do it correctly. Look at the alignment machine and the tech. If he looks like you wouldn't want him cleaning your pool then go with that instinct. Make sure they are doing complete alignments where they are checking and setting all the specs Camber, Caster, Toe and backlash ( rear wheels). If a shop says they do not do 4 wheel alignments run run away fast. To do a proper alignment you have to check and adjust as necessary not only the front but also the rear. If the rear is not correct it will never be right period!!!
Insist on before and after printouts and DO NOT PAY if they do not provide it. If they can't print it from the computer then the tech can write it down. I hate ranges for alignment specs but if your shop is using big ranges then make sure they are written down and make sure your alignment is dead in the middle of the range they are given. It's not right if it's anywhere else but in the middle.
Be sure to write out all of your symptoms and problems and give it to the mechanic directly. NOT the service manager! It will get lost. A mechanic can't fix something he doesn't know about and they rarely get paid enough to go looking for problems. When you get it back drive around the block before going home. Make sure your steering wheel centers itself when you let go of it. If it's crooked then your toe is not right.
Things to check and that you should be aware of before taking it in for alignment
(some things mentioned may be redundant from above)
:
I have seen a few posts by people that with out straight solid axles the springs do not effect the alignment. From what I have learned this would be very incorrect. Spring and changes to them do change alignment settings.
Things to check for to help get and idea of some of the issues:

First if you still have stock leaf springs front and rear your leafs are without a doubt sagging meaning your curb ride height is off. Even more important is if you have one side sagging mroe than the other at an corner creating a lean.
You measure curb ride height front and rear as shown in the diagrams below.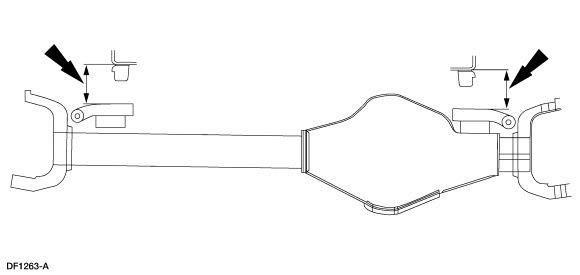 For the Excursion the only real fix is to replace the springs with F-250 F-350 springs which are V codes front and a modified B or F codes in the rear. But if you have good springs or already have replaced them with some new springs regardless if you do measure a lean from side to side you can have or install yourself a shim that will correct up to 3/8" worth of lean. This latter should actually be handled by a good alignment shop if they are doing a good job if the lean is outside of spec.
You springs setup can and will effect the alignment settings. Anything that changes the front to rear rake of the vehicle will at the very least change the caster setting. The caster is effected by axle rotation. Visualize what happens to the front axle when you raise or lower the rear or front of the vehicle in relation to the other end. The axle rotates. This changes caster. Caster is the deviation from vertical of an imaginary line drawn through the ball joints when viewed from the side. Now it may not alwasy be enough to where you notice an effect in your steering or straight line tracking but it does effect the setting. Leveling kits will effect your alignment settings as they change your rake from angles down to the front to level. Those going for that pre-runner look effects it that much more.
Check all the various steering and suspension linkage for loose joints or worn bushings. These things can make it almsot impossible to get an alignment that will hold without first replacing the worn parts. Your alignment shop should also do this inspection as well.
Some definitions and info pertaining to alignments spec's and settings (All actual specifications will be given separately not in the text descriptions):


Camber(Positive/Negative):
WHAT IS CAMBER?
Camber is the angle of the wheel relative to vertical, as viewed from the front or the rear of the car. If the wheel leans in towards the chassis, it has negative camber; if it leans away from the car, it has positive camber (see next page). The cornering force that a tire can develop is highly dependent on its angle relative to the road surface, and so wheel camber has a major effect on the road holding of a car. It's interesting to note that a tire develops its maximum cornering force at a small negative camber angle, typically around neg. 1/2 degree. This fact is due to the contribution of camber thrust, which is an additional lateral force generated by elastic deformation as the tread rubber pulls through the tire/road interface (the contact patch). Camber has a direct effect on tire wear patterns.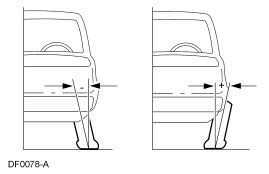 Caster(Positive/Negative):
Caster is the angle to which the steering pivot axis is tilted forward or rearward from vertical, as viewed from the side. If the pivot axis is tilted backward (that is, the top pivot is positioned farther rearward than the bottom pivot), then the caster is positive; if it's tilted forward, then the caster is negative.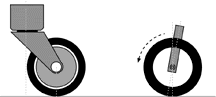 Positive caster tends to straighten the wheel when the vehicle is traveling forward, and thus is used to enhance straight-line stability. The mechanism that causes this tendency is clearly illustrated by the castering front wheels of a shopping cart (above). The steering axis of a shopping cart wheel is set forward of where the wheel contacts the ground. As the cart is pushed forward, the steering axis pulls the wheel along, and since the wheel drags along the ground, it falls directly in line behind the steering axis. The force that causes the wheel to follow the steering axis is proportional to the distance between the steering axis and the wheel-to-ground contact patch-the greater the distance, the greater the force. This distance is referred to as "trail."
Due to many design considerations, it is desirable to have the steering axis of a car's wheel right at the wheel hub. If the steering axis were to be set vertical with this layout, the axis would be coincident with the tire contact patch. The trail would be zero, and no castering would be generated. The wheel would be essentially free to spin about the patch (actually, the tire itself generates a bit of a castering effect due to a phenomenon known as "pneumatic trail," but this effect is much smaller than that created by mechanical castering, so we'll ignore it here). Fortunately, it is possible to create castering by tilting the steering axis in the positive direction. With such an arrangement, the steering axis intersects the ground at a point in front of the tire contact patch, and thus the same effect as seen in the shopping cart casters is achieved.
The tilted steering axis has another important effect on suspension geometry. Since the wheel rotates about a tilted axis, the wheel gains camber as it is turned. This effect is best visualized by imagining the unrealistically extreme case where the steering axis would be horizontal-as the steering wheel is turned, the road wheel would simply change camber rather than direction. This effect causes the outside wheel in a turn to gain negative camber, while the inside wheel gains positive camber. These camber changes are generally favorable for cornering, although it is possible to overdo it.
For whatever reason the Super Duties including the Excursions seem to be effected more so than other types of vehicles by caster settings. On vehicles that have had larger tire and suspension changes one of the rules for setting up caster was with the use of caster shims to set the caster as far positive as possible while still being able to keep camber with in the tolerance specs as needed to get good straight line tracking over road surfaces.
Caster has no effect on tire wear patterns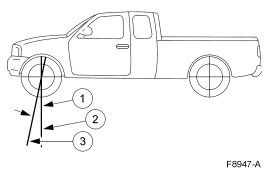 Item Part Number Description
1 — Positive Caster
2 — True Vertical
3 — Steering Axis
Toe (In/Out):
When a pair of wheels is set so that their leading edges are pointed slightly towards each other, the wheel pair is said to have toe-in. If the leading edges point away from each other, the pair is said to have toe-out. The amount of toe can be expressed in degrees as the angle to which the wheels are out of parallel, or more commonly, as the difference between the track widths as measured at the leading and trailing edges of the tires or wheels. Toe settings affect three major areas of performance: tire wear, straight-line stability and corner entry handling characteristics.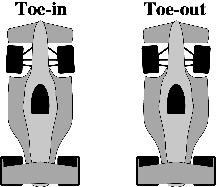 For minimum tire wear and power loss, the wheels on a given axle of a car should point directly ahead when the car is running in a straight line. Excessive toe-in or toe-out causes the tires to scrub, since they are always turned relative to the direction of travel. Too much toe-in causes accelerated wear at the outboard edges of the tires, while too much toe-out causes wear at the inboard edges.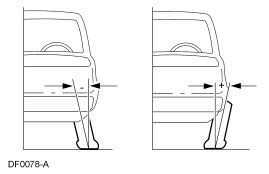 So if minimum tire wear and power loss are achieved with zero toe, why have any toe angles at all? The answer is that toe settings have a major impact on directional stability. The illustrations at right show the mechanisms involved. With the steering wheel centered, toe-in causes the wheels to tend to roll along paths that intersect each other. Under this condition, the wheels are at odds with each other, and no turn results.
When the wheel on one side of the car encounters a disturbance, that wheel is pulled rearward about its steering axis. This action also pulls the other wheel in the same steering direction. If it's a minor disturbance, the disturbed wheel will steer only a small amount, perhaps so that it's rolling straight ahead instead of toed-in slightly. But note that with this slight steering input, the rolling paths of the wheels still don't describe a turn. The wheels have absorbed the irregularity without significantly changing the direction of the vehicle. In this way, toe-in enhances straight-line stability.
If the car is set up with toe-out, however, the front wheels are aligned so that slight disturbances cause the wheel pair to assume rolling directions that do describe a turn. Any minute steering angle beyond the perfectly centered position will cause the inner wheel to steer in a tighter turn radius than the outer wheel. Thus, the car will always be trying to enter a turn, rather than maintaining a straight line of travel. So it's clear that toe-out encourages the initiation of a turn, while toe-in discourages it.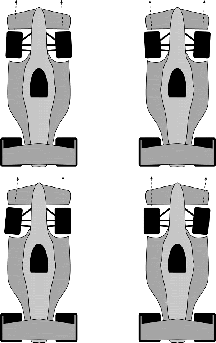 With toe-in (left) a deflection of the suspension does not cause the wheels to initiate a turn as with toe-out (right).
The toe setting on a particular car becomes a tradeoff between the straight-line stability afforded by toe-in and the quick steering response promoted by toe-out. Nobody wants their street car to constantly wander over tar strips-the never-ending steering corrections required would drive anyone batty.
The super duty needs zero to a very slight amount of toe in and only needs to be increased from the ideal of zero if needed to increase straight line stability to account for suspension wear.
Thrust Angle:
Setting that effects the rear axle tracking of the vehicle. How the rear wheels track in relation to the front wheels while traveling straight down a flat road surface.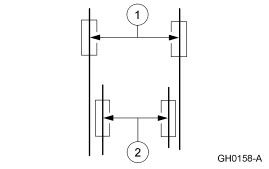 It misalignment causes what is know as dog tracking. Driving down a highly crowned road can give the appearance of dog tracking.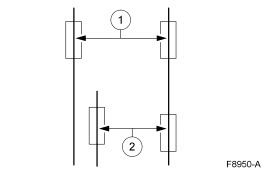 1 is front
2 is rear
Over all with the Super Duty and Excursion left and right specification for each of these settings should be set to equal specifications. Ideal the differnce between right and left for Camber, Caster and toe should be zero meaning left and right will have the same degree settings for each. Example: If Caster is set to 3.5 left it should also be set for 3.5 on the right side.
These modern computer alignment machines are built for dummies to align anything to within halfway decent specs, That's why they always give such a wide range for the tech to shoot for. There is no such thing as a PERFECT alignment taught anymore. It is extremely important to set it where the factory says to, meaning the same on either side and to the ideal angle
Specifications for ideal alignment settings and allowable tolerance to correct road tested issues:

(In other words the specs should be set to these specific setting or as close as humanly possible and only changed inside the tolerances if those specific setting do not produce a good performing alignment.)


Excursion F250 F350 4x4:
Caster:
______Left + 3.5°____Right +3.5°____Tolerance +1.5°- +5.5°____Left to right split ideal 0° never more than 1°+/-
Camber:
______Left + 0.25°____Right +0.25°____Tolerance -.75°- +1.25°____Left to right split ideal 0° never more than 1°+/-
Toe:
_______Left 0°____Right 0°_____Tolerance 0°-0°_____Left to right variation .03° +/- .25°
Dogtracking:
Maximum (Centerline of front tires compared to centerline of rear tires) 1.2" or 30mm
Clear Vision:
(Steering Wheel Alignment) -0.4° ± 3°
Excursion F250 F350 4x2:
Caster:
_______Left + 4.0°_____Right 4.0°____Tolerance +2.0°- +6.0°____Left to right split ideal 0° never more than 1°+/-
Camber:
______Left + 0.62°_____Right +0.62°____Tolerance -0.38°- +1.68°_____Left to right split ideal 0° never more than 1°+/-
Toe:
______Left 0°____Right 0°_____Tolerance 0°-0°_____Left to right variation .03° +/- .25°
Dogtracking:
Maximum (Centerline of front tires compared to centerline of rear tires) 1.2" or 30mm
Clear Vision:
(Steering Wheel Alignment) -0.4° ± 3°
Some points on how they should adjust camber and caster settings. This is directly from Ford Mechanics Manual
Caster if its need to be adjusted should be by the use of Caster shims that are placed between the leaf springs and the axle. This is the preferred method as opposed to aftermarket adjustable camber caster bushings.
Camber should be adjusted by the bushing.
Many alignment techs will likely want to take the fast way with a combo bushing for obvious reason. All I can say is the above method is what the factory states as the recommended way to make those adjustments and the those that seemed to have considerable knowledge and experince that weighed in seemed to agree. The adjustable bushing seems to be more difficult to properly dial in from what I took away from it. Kind of a easier short cut method it seemed to me. But the important thing it getting the correct caster and having it stay put which ever method is used. I know both ways work. When ever they do replace the caster shim( wedge) the u bolts and nuts should be replaced as well. This also applies if they have to add a flat shim to adjust for lean from a sagging spring on one side.
Another thing to also make note of with the Excursions is they really do need rear sway bars. If yours does not have one I would personally consider it mandatory to a proper handling Excursion. Further it seems that many do have issues that have been tracked down to the steering box. Adjusting for lash play from what I can tell is a temporary fix and you will eventually need a new one. The red head steering boxes seem to be the most highly recommended and do a fantastic job in greatly improving wander from constant correction caused by loose steering gears. One last thing on this area. It was also found that the upper steering shaft which is what I am calling the shaft that connects the steering gear to just inside the firewall above the pedals. It is a 2 piece shaft that collapses, complete with the rag joint (rubber bushing). Worn ones have been found to have a full 1/4 turn or more of slop from wear where new ones are tight with next to no play. This is another point of steering play that should be checked and if found worn replaced. From others it seems to take only 5-10 mins to take out once you see who to disconnect it.
Make sure you take your vehicle for a test drive as soon as they are finished and check that steering wheel for being centers when going straight.
Hope this all helps some what for those that are having issues.