Discussion Starter
·
#1
·
Hey guys, Intercooler finally arrived, only took four and a half months since apparently AFe did not finish manufacturing new stock until recently. Anyways she showed up slightly bruised on the sides from shipping but since I received a killer deal on it I won't complain.
So install is pretty straight forward and super easy. Only thing I would suggest is have another person hold the unbolted AC condenser/fuel cooler out of the way when you put the new intercooler in so your not bending fins or putting holes in any rads. The AFe intercooler is definitely heavier and requires two hands. So be very careful. BTW brake clean and hair spray your hoses after too. I had a bit of a tough time removing the hoses of the stock intercooler from the last time I sprayed them, so it goes to show how well it works.
Anyways, before I put her on I did the usual drive around town and the highway taking down numbers to see what kinda difference it makes. I made sure both before and after the conditions were identical (temperature, wind, roads, weight, speeds, tune, accelerations). I did each run twice. Apologize to the Americans for my metric speeds...
So here is what I averaged for exhaust temperatures:
..............Stock Intercooler l AFe Intercooler l Difference
50km/h........400f....................390f.................10f
70km/h........525f....................500f.................25f
110km/h......800f....................760f.................40f
WOT Peak....1800f..................1710f................90f
Idle.............250f....................245f.................5f
An obvious decrease in temperatures in all events so we know that I'm getting a more complete combustion (More complete combustion= more HP and MPG). As speed goes up I can see the direct correlation between speed and temp. The decrease is uniform. So to see a decrease in an empty truck makes me wonder how much more it would help those who tow a lot.
As for power, I didn't expect much but wow. I feel the truck has more top end both from rolling or a stop. Turbo lag once again feels to be less and I am very impressed. I wish I had a dyno to see what actual difference it makes.
Also I noticed immediately that the intake has a louder, deeper tone. Sounds awesome.
Ascetically it looks really good being able to see it through the grill. Almost like some added bling that intimidates other diesels.
So here are my pics:
Before with Stock Intercooler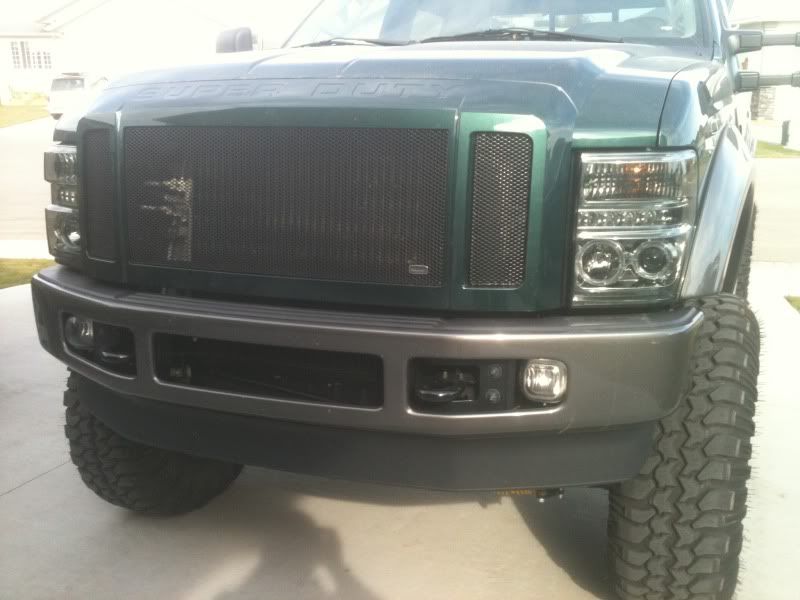 Stock vs AFe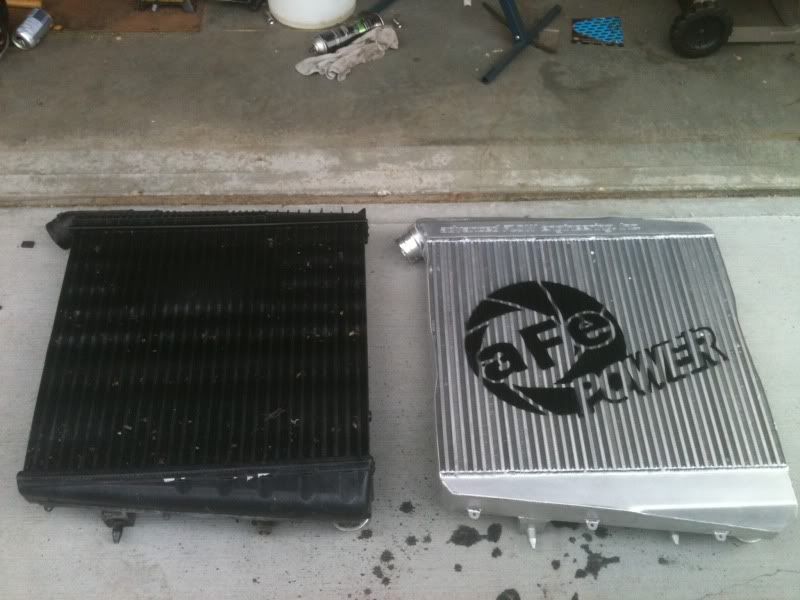 Stock vs AFe (Stock fin section width is 22.5" and AFe is 23.5")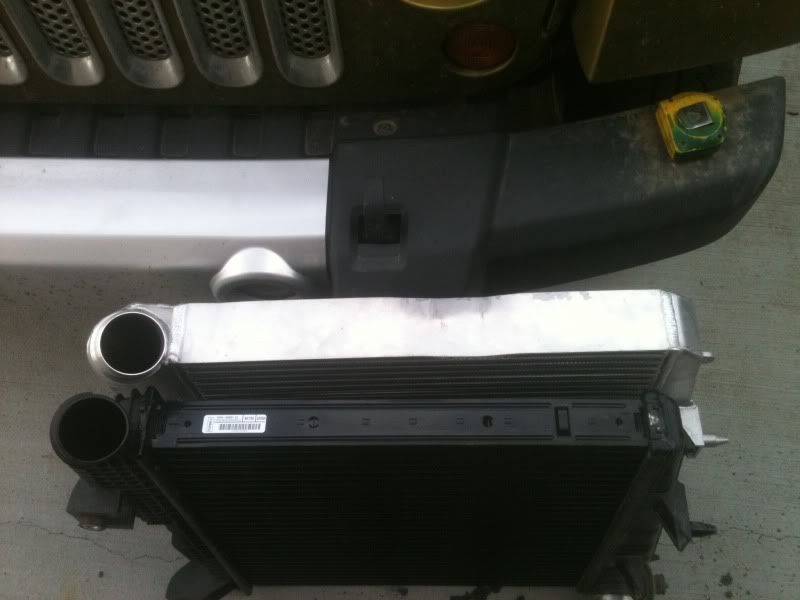 Stock vs AFe widths (stock is 2.25" and AFe 3.12") Big difference!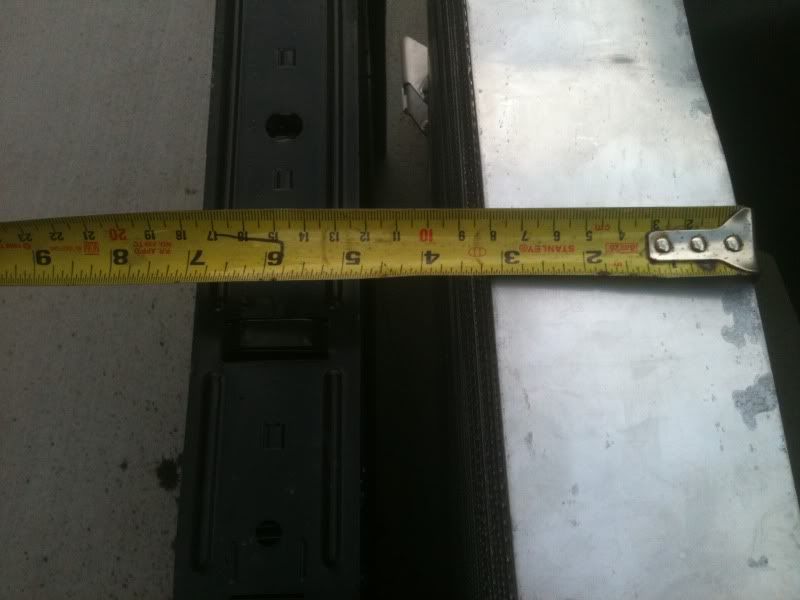 After with AFe Intercooler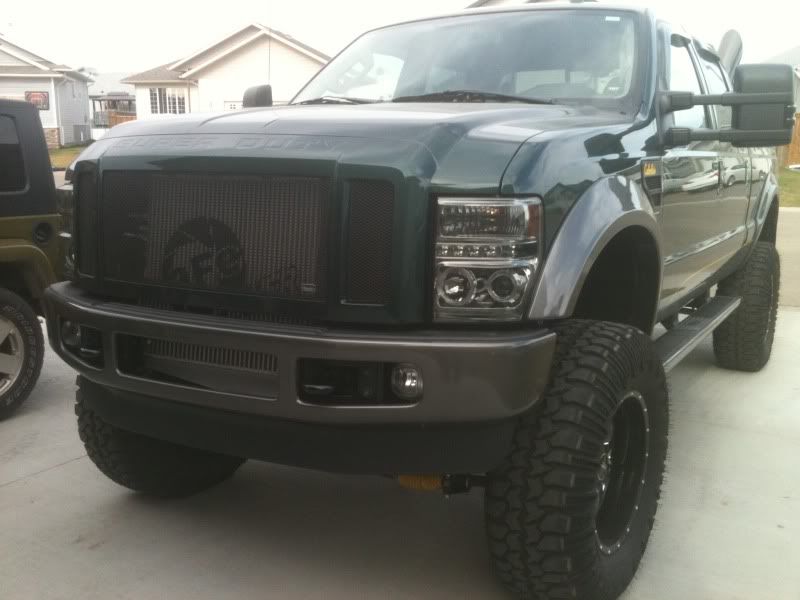 So for sure the AFe intercooler is way less restricting and has a better cooling capacity than stock from the dramatic size increase.
When I get a chance I will try for some mileage numbers to see if there was a difference. I'm certain there is an increase though.
All in all I'm very pleased with the results and recommend it to any superduty.