Discussion Starter
•
#1
•
To explain:
Need transfer case w dual output shafts,
We build fences, and move 12' at a time, we use the following post pounder set ups.
Three man operation, hard to get into corners (truck must be attached)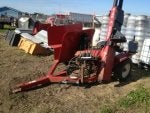 Evolved into this, works great Ugly enough that it won't be allowed on some job sites. 2 man operation.
Which turned into this, and again requires 3 man operation.
Bought this and will be rigging it up to steer, drive (via orbit motor).
So question is does anyone know how to make this work? Thinking dual transfercases w one running off hyd orbit Motor. Steering assist ram like some lifted trucks have, w a lever on the back. Any one have ideas on this?
Sent from AutoGuide.com Free App