PSN Newb
Join Date: Dec 2007
Location: Moses Lake, Wa
Posts: 18
CBSP Finale Mark your calenders
---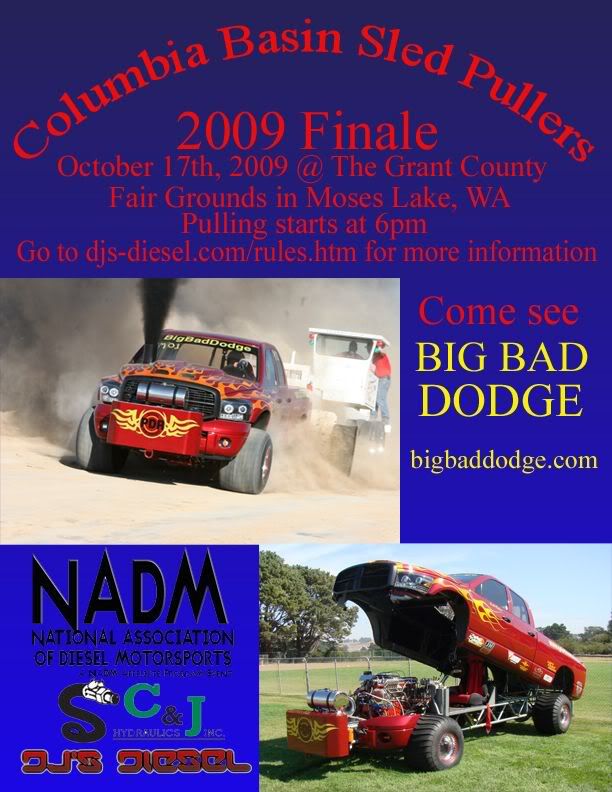 ---
[SIGPIC][/SIGPIC]
1999.5 F-250 SD 4in lift, 37x13.5x18 ProComp Xtreme A/T's, 38R, Tuned by Jody, 160cc SS injectors, 6 oh intercooler, Shimmed FPR, 5in Straight Pipe, EBPV Delete, Foil Delete, 3 Chime Train Horn, Custom Weight rack for sled pullin
Re: CBSP Finale Mark your calenders
---
this sucks why do they do all the good stuff in washington lol
---
06 crew cab
06 reg cab

To view links or images in signatures your post count must be 10 or greater. You currently have 0 posts.
PSN Newb
Join Date: Dec 2007
Location: Moses Lake, Wa
Posts: 18
Re: CBSP Finale Mark your calenders
---
Quote:
this sucks why do they do all the good stuff in washington lol
Come on up. Bring a sleeping bag you can crash at my house
---
[SIGPIC][/SIGPIC]
1999.5 F-250 SD 4in lift, 37x13.5x18 ProComp Xtreme A/T's, 38R, Tuned by Jody, 160cc SS injectors, 6 oh intercooler, Shimmed FPR, 5in Straight Pipe, EBPV Delete, Foil Delete, 3 Chime Train Horn, Custom Weight rack for sled pullin
PSN Veteran
Join Date: Jul 2008
Location: Northwest, OR
Posts: 2,081
Re: CBSP Finale Mark your calenders
---
I may try and make it up to that. Sounds like good times.
Re: CBSP Finale Mark your calenders
---
Matt you don't come to pulls here!
---
'04 F350. Typical Mods with tuning by Tadd and Eric and Matt.
'06 VW Jetta TDI. Stock. 42mpg
Sticks and stones can break my bones, but Fords with big turbos excite me...
Quote:
People think I like girls because guys worth my time are as easy to find as crew cab powerstrokes in the 11's.
Re: CBSP Finale Mark your calenders
---
they do it all in washington because california sux.everyone here cries about the pollution.
---
2003 6.0
Innovative cutom tunes
Innovative FICM
egr delete
headstuds
k/n intake
Garret Stage 1
Banks IC
Ceramic coated exhaust manifolds and Y pipe
4 inch lift on 35 Toyo mud terrains
4" straight pipe
Triple pod Autometer gauges Ultra liteII boost,egt,and fuel pressure
BTS Billet transmission
more to come........