PSN Local
Join Date: Apr 2011
Posts: 133
New to the forums..
---
Wussup fellas... Just making my first post and introducing myself. I've wanted an
OBS
7.3 since I was 16, now at 21 I sold my Trans Am to fund one..
I ended up with this.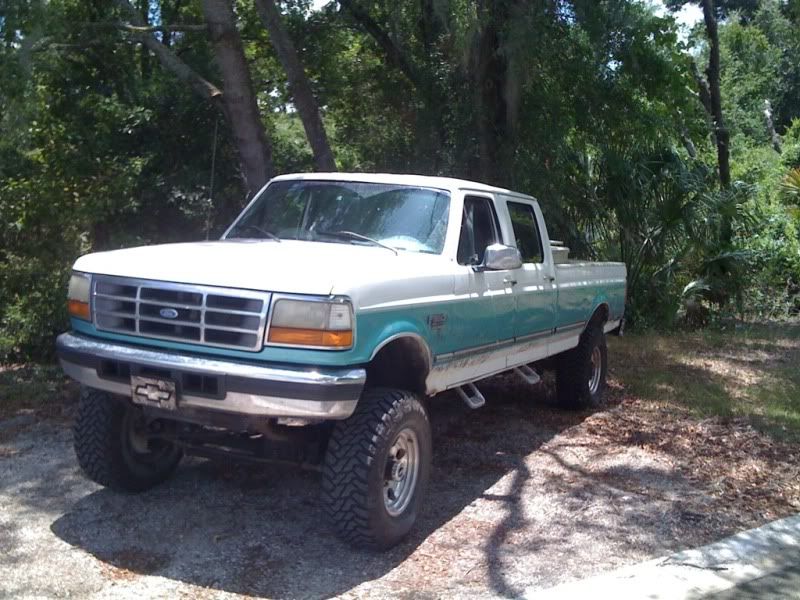 1996 CCLB, 6" lift new 35 Cooper m/t, rebuilt trans (shift kit, triple disc comverter), 3"
DP
, 4 in straight pipe, Ts 6pos chip, napa airfilter mod. 315K p/o said injectors were prolly done around 200k, and glowplugs have been done, trans has around 6K.
Paid 5K cash for it, needed uppipe donuts, oil cooler o-rings, column rebuilt, and a front seat.
Finished the uppipes yesterday.. Honestly wasn't too bad! Gonna do the oil cooler whenever my gaskets come in.
Only questions I have are.. I hope I get better than 9mpg this tank.. And what year will columns and seats interchange?
Thanks guys! Hope to learn alot..
Chris
Re: New to the forums..
---
Welcome! just get rid of that chevy license plate.......
---
-1997 Ford F350 cc lb srw-yanker
-1995 Ford F350 reg cab lb drw-dumper
Mine-1973 F250 fun truck

"load it like a boxcar, drive it like a nascar"

My webshots-
To view links or images in signatures your post count must be 10 or greater. You currently have 0 posts.


> Morgan McCormick <
Re: New to the forums..
---
.. Welcome!
---
2008 f250 KR. Powerstroker67 4in downpipe. 5in exhaust.Afe intake. Spartan tuned. EGR cooler delete. 4in rancho lift, PMF traction bars.71mm atmo, elite pushrods and springs, gogo intake, 6.0 manis and up pipes. Elite stage 3 trans.. L.E.D's every light.
Banned
Join Date: May 2011
Posts: 87
Re: New to the forums..
---
Don't get me wrong i love my bowtie but gotta take it off the truck.
Looks good, welcome