Has anyone dyed their leather?
---
I've got tan leather amd I'm thinking of converting to an all black interior. I know that it's possible to dye leather, but I'm not sure how well it holds up.
Here's how it all looks now...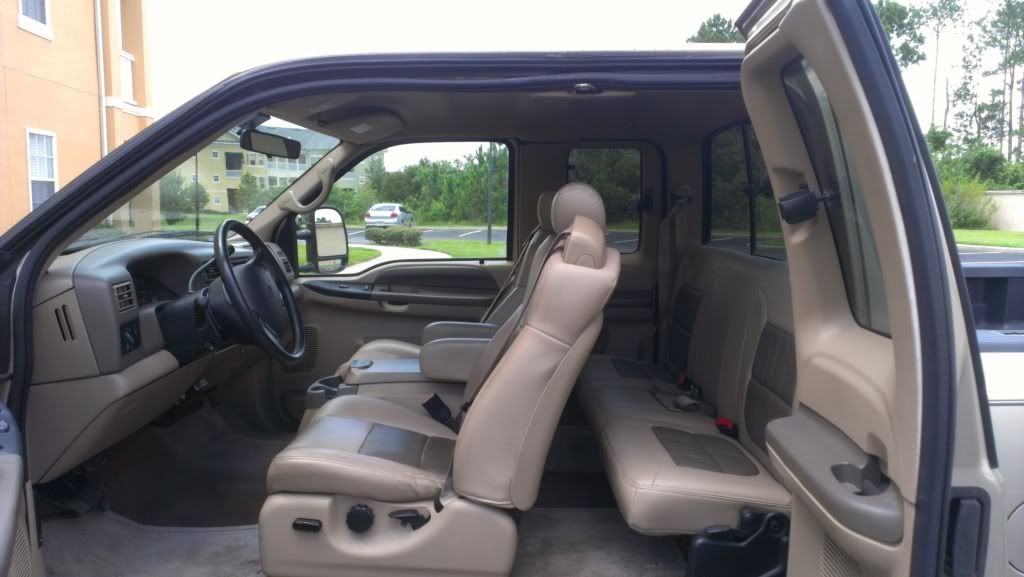 ---
2001 xlt extended cab long bed 2wd auto
DIY 6637
Straight piped
hypertech max energy programmer
PSN Local
Join Date: Mar 2013
Posts: 73
Re: Has anyone dyed their leather?
---
There's a product called leatherique, you can actually get it paint matched to whatever you want at certain places. It's fairly simple to use, and it finishes great. I'm sure you can find it on eBay. If you want more information about it, check out customspraymods, on youtube and look for the video. It's really in depth and is what I based off of when I redid my friends seats in his Tahoe. It's only Been 4 months but it still held up good so far.
Re: Has anyone dyed their leather?
---
ExtremeFord4x4 did his...it came out REAL NICE!
Re: Has anyone dyed their leather?
---
Best thing to do is call up a local used car dealership, higher end the better, and ask them who the use to repair their used car interiors. There are several company's that do this. I'm having someone local do mine. They usually hold up pretty well.
---

To view links or images in signatures your post count must be 10 or greater. You currently have 0 posts.
B&C Supply Co.-Automotive Reconditioning Products
PSN Newb
Join Date: Jun 2013
Posts: 6
Re: Has anyone dyed their leather?
---
I think that is not much bad, I like the color of your interior.... but why you wanna change them? Well do contact to your dealer for this purpose, but if you replace this with new interior then it will so much costly, you are right the dying the interior is a good idea. but you can't do that at home.
---
Improper non-sponsor link in signature removed by moderator.