Clutch out....
---
I want to pick yalls brains.
I found a truck for sale here locally ad states:
"1995 4/dr duelle power stroke,clutch went out."
I have a 5spd and have seen and driven several 5spd trucks I've never seen one that just went out before.
I'm thinking culprits could be blown slave, busted master, or the clutch rod just popped off.
Do yall have any suggestions of what you think it might be? Could the clutch have completely just failed? I'm waiting for a response back on the add at the moment so I can go look at it.
Here's the truck.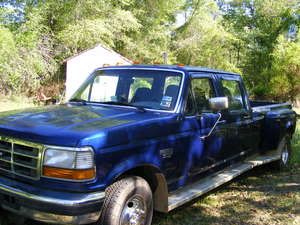 ---
[CENTER]1994 F350 4x4 5spd, 1995 F250 4x4 5spd, 1996 F250 4x2 auto, 1997 F350 4x4 auto, 1997 F250 4x2 auto
#27
Re: Clutch out....
---
They almost always fail slowly. If it just quit working instantaneously I would lean towards the rod having popped off. The other two posibilities you already mentioned being the slave or master. I would check the rod out then the master/slave and go from there. Ask questions as to whether or not there was a loud banging sound indicating the dual mass seperated at speed. If not then I would say that it is one of the three above mentioned possibilities.
---
97 F-350 XLT CC DRW 4X4 PSD, 285/75-16 Custom bumpers, Gauges-boost/egt/trans, Swamps IDM, 3.5"dp- 4" exh., 3" Body lift, ES bushings/mounts, Built trans, billet conv, B&M pan, Hayden cooler, Adrenaline, stage 2's, IC, H2E, E-fuel
ARP's, 910's, Smith Bros. to come