exhaust leak
---
I've notice that my truck has seemed like it has a lot less power lately and the
mpg
has gone down. I got looking into the problem and found this.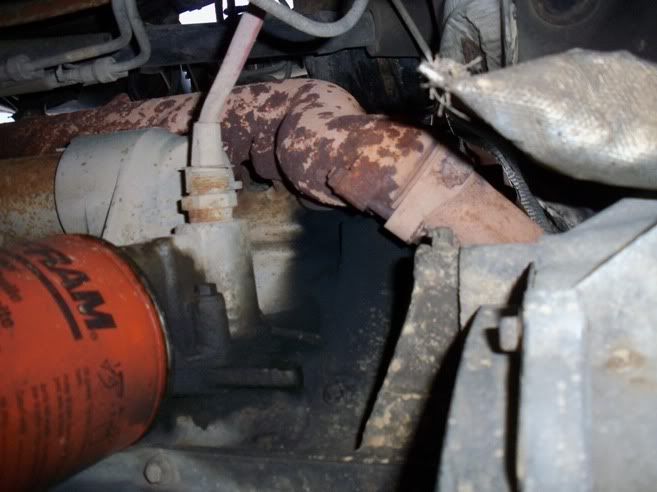 Found that that was cause by the rear driver's side manifold bolt's head popped off.
My question is since i will probably have to take the manifold off to get the bolt out should i replace the donut gasket? Also I am guessing that I should use some sort of anti seize on the bolts?
And from what I read on here, there was originally no manifold gasket. So should i even worry about putting one on if the manifold surface is flat?
Thanks!
---
Everett

1997 F-250 Heavyduty, Powerstroke, DIY Intake, 4X4, 5 speed, SWD 4:10 axle, 4" Flo-Pro SS Exhaust
Dana 60 conversion with PMF RSK with superduty V code springs, Rear superduty B code springs
Re: exhaust leak
---
I was puting the manifolds back on and one of the bolts broke the head popped right off ,had to remove the manifold and dig up another damn bolt.
I would slather on the anti-seize I use it on the uppipe donuts too . If Ithink I might have to take it apart it is getting anti-seize or even if not.
---
97 crew cab shorty-4x4 Lots of mods .
Tuned by T Wildman
Join Date: Sep 2009
Posts: 1
Re: exhaust leak
---
hello i have a leak at the joint were the mainifold meets the up pipe and was told there is no dounut gasket so was there one on urs or no
Re: exhaust leak
---
Nope, no gasket there. They are at the top of the up pipe.
---
Everett

1997 F-250 Heavyduty, Powerstroke, DIY Intake, 4X4, 5 speed, SWD 4:10 axle, 4" Flo-Pro SS Exhaust
Dana 60 conversion with PMF RSK with superduty V code springs, Rear superduty B code springs