LED light bar mount pics
---
I cant count the number of 20" led bars ive seen in the front bumper of trucks but i cant seem to find any pictures of how people actually mount them. I know kd fabworks sells a bracket kit but i was curious what others were doing? For the price id rather just build one but i was hoping for some ideas.

Post up any pics you may of the mount.

Thanks!
---
E99 with 99.5 motor 7.3 (from factory) ZF6 Ext Cab/ Long Bed. 6637 mod. MBRP 4". Auto Meter Ultra Lite II Pyro/Boost. PHP Hydra. Leveled on 35" BFG A/T's.
Re: LED light bar mount pics
---
most of my customers use our included brackets but there are some that prefer a premade bracket for ease of installation or those that don't have basic fab skills.
---
Chris

Moore, Oklahoma



1996 Ford F350 4x4 Crew Cab PSD
6637 tymar
285-75-16 BFG All Terrains/Weld Wheels
3:55 gears
Automatic with billet convertor, tugger and alto discs
New Gearhead Tunes:
1 heavy tow
2 stealth mode
3 tow/econ
4 street perf
5 all out
6 high idle
1.0 housing
exhaust
PSN Veteran
Join Date: Jan 2012
Posts: 747
Re: LED light bar mount pics
---
i made my own bracket, if you pull the bumper off there are two holes behind it that you can bolt it too. i just used a piece of angle aluminum and bolted the light bar to that
---
2000 F250 ccsb 4x4. 218,000 miles, 38r 1.0 housing with turbo master, 238/80% FFD hybrids, BTS
To view links or images in signatures your post count must be 10 or greater. You currently have 0 posts.
riff raff FRx, Autometer C2 series gauges, DIY tymar, remote start, Hydra with GEARHEAD Tunes
Re: LED light bar mount pics
---
go to lowes or home depot they sell pieces of aluminum angle iron with pre drilled hole in it works great I bought a 24" one it worked and was cheap
---
2014 F-250 ccsb lariat stock with 20 inch light bar in bumper. fully deleted with no limit intake.
PSN Local
Join Date: Aug 2010
Posts: 65
Re: LED light bar mount pics
---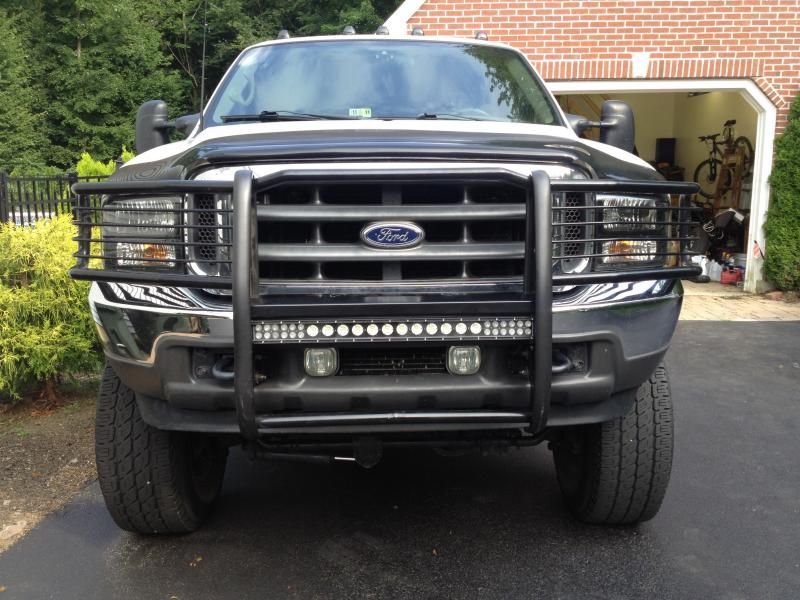 Mounted a 30" in between my bar.
Re: LED light bar mount pics
---
4 Wheel Parts makes a bracket for... 40 bucks if I remember correctly.
That's what I used before getting my new bumper.