need help with 5 pin relay wiring
---
Yesterday I got everything for my airhorns bolted on to the truck. Today I do the wiring and I'm stuck. Sorry bout the quick pictures. lol
First is the relay
5 pin
Red, White, Black, Yellow and Blue
This is my thoughts please tell me if I'm on the right track. Can I wire it like:
Red: Power in from battery
Black: Ground
White: Switch
Yellow: Power to compressor
Blue: ?
I'm also wanting to switch the horns between stock (damn safety check stops) stock with airhorns. I'm confusing myself because I'm trying to figure everything out at once instead of one thing at a time. Will this work since the horn is an open circuit? Red wire from the air release valve up to the switch, and leave the black taped off? see, I'm confusing myself. UGH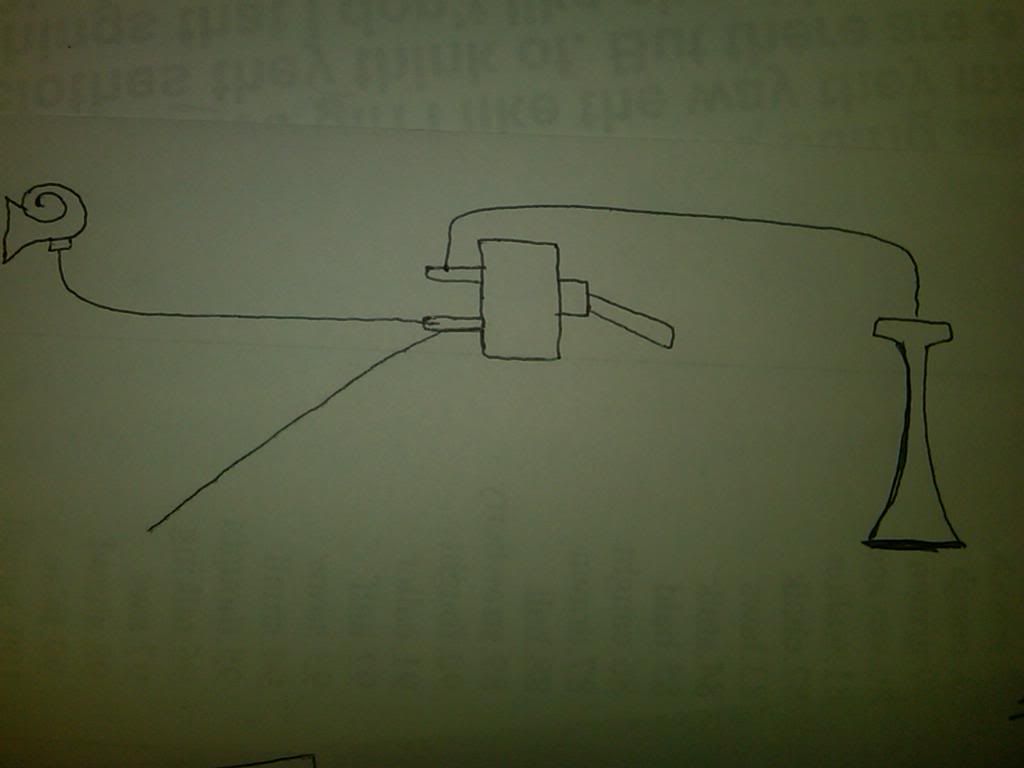 ---
WATCH THIS
Re: need help with 5 pin relay wiring
---
also... should I put an inline fuse between the battery and the relay? My aftermarket fog lights are like that so idk.
---
WATCH THIS
Re: need help with 5 pin relay wiring
---
Did the 5 pin relay come with the kit?
Normally in a 5 pin relay, its set up as follows:
85 - ground
86 - + from switch
30 - to whatever it is thats being turned on (in your case the tank/compressor)
87a - source a, 12v in
87 - source b, 12v in
The idea is that when the switch is in the off position, the circuit draws power off source a, but when the switch is flipped on, it energizes the relay, and allows the power to come from source b instead of a. For example, i have a flasher hooked up to my mirror lights, so they strobe. When i have the flasher unit off, they act as normal running lights. When i flip the flasher on, the relay energizes and switches the input source to the bulb from the normal running light power a over to the input from the flasher b.
Here:
http://www.autoshop101.com/forms/hweb2.pdf
That being said, I believe if you leave the 87a pin empty, in the off position, it wont recieve any power.
Ground to 85, 12v from switch to 86, 30 to compressor, and 87 from battery.
Also, on your switch, by black, do you mean ground? Unless the switch has a light in it (which would mean it has 3 pins), it doesnt need ground. Red power goes in one pin, and out the other.
I have never wired a horn set up tho, so i dont know if yours has directions or not. That above is just what i know of general eletrical stuff.
If im wrong, someone say so and ill delete this lol
---
2002 F350 7.3
Pics and full list of mods
To view links or images in signatures your post count must be 10 or greater. You currently have 0 posts.

Waltham, MA
Re: need help with 5 pin relay wiring
---
No I didnt buy a kit. I pieced the system together. The relay came from a guy that had the compressor on a bagged truck. Its a generic plug so I dont see any of those numbers. I did an online search for awhile last night so I know what your talking about tho.

I dont know if color matters on relays much but the way this plug is set up is.

Red @ 87a
Black @85
White @ 86
Yellow @ 87
Blue @ 30


If what your saying is correct then I need to stop thinking that red is power in. I think thats what is confusing me. Also by the looks of it, white and black are 14g and the rest are thicker, 12g maybe. If that helps any.

and yes I meant black as ground. The switch I have now is a 2 pin. What your saying is I need to run a 12v switched to the bottom, then 86 (white) from the top?
---
WATCH THIS
Re: need help with 5 pin relay wiring
---
CORRECT?
---
WATCH THIS
Re: need help with 5 pin relay wiring
---
ok looks like this will work.
Now I need to figure out how to switch the horns. The whole open circuit thing is throwing me off but I think I'm on to something. Pressing the horn completes the loop? That cant be right. Its an open loop so pushing the horn grounds it out. right? If thats the case do I not run a ground on the valve that releases the air to the horns? ugh!
---
WATCH THIS
Re: need help with 5 pin relay wiring
---
DIDNT WORK.... can anyone chime in on this?
---
WATCH THIS
Re: need help with 5 pin relay wiring
---
I switched the yellow and the blue around and now it is intermittent like a flasher. I know I'm close
---
WATCH THIS
Re: need help with 5 pin relay wiring
---
Here is how the 1st relay should be wired....

86 - 12V Constant
85 - One prong on pressure switch on the tank (other prong of pressure switch to chassis Ground)
30 - 12v Switched
87 - To compressor 12v input (compressor negative to chassis Ground)

The horn wire should be wired like your second drawing with the switch. except the red from the release switch should go to 12v constant and the ground should go to the switch.
---
2005 Ford F-250 CCSB-Lariat-FX4-SRW

GearHead / PHP / AutoMeter / Diesel Site / Weather Tech
Viper / Pioneer / Phoenix Gold / Stinger

MECP Master Certified Mobile Audio/Video/Security Installer
Re: need help with 5 pin relay wiring
---
k... who wants to call me a D.A. first? After looking at the relay I noticed that it was a "flasher" relay. I took it back and got a "regular" one. Now all thats left to figure is the horn part. I'll try your advise Tony, thanks
---
WATCH THIS