Bumper Push Bar
---
I found this pic of a truck. It belongs to a guy named Motoman if any one has heard of him.
Im wondering if anyone knows who makes this bumper bar hes got on there?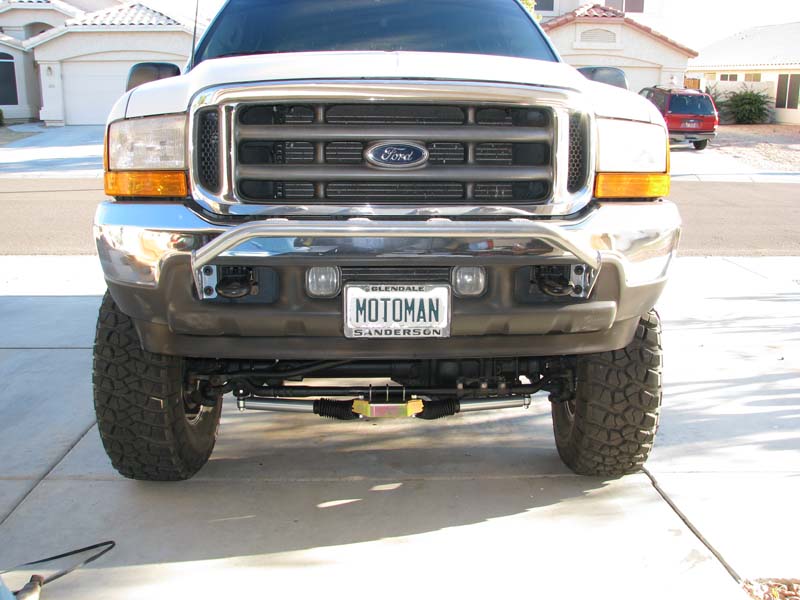 heres his website
http://www.emotoman.com/f250/indexf250.html
---
2001 F-250 PSD 4x4 Lariat CC SB Auto
Power Hungry Performance
Edge CTS Insight
ATS 4" Straight Pipe
ATS Ported Compressor Housing
AFE Stage II Intake
DI Stainless Up-Pipes
BTS Valve Body
6.0 Billet Converter
6.0 32 Row Trans Cooler
Foil Delete
AIH Delete
CCV Mod
Firestone Ride-Rite airbags
Re: Bumper Push Bar
---
---
Early '99 F350 DRW, Excab, LB. Auto. 2WD, 2010 bed, 2005 headlights, 298K, on my way to 1000K.
H2E, 238 Hybrids, Adrenaline oil, Tuned by Tony. DIY Regulated Return.
Re: Bumper Push Bar
---

thanks
---
2001 F-250 PSD 4x4 Lariat CC SB Auto
Power Hungry Performance
Edge CTS Insight
ATS 4" Straight Pipe
ATS Ported Compressor Housing
AFE Stage II Intake
DI Stainless Up-Pipes
BTS Valve Body
6.0 Billet Converter
6.0 32 Row Trans Cooler
Foil Delete
AIH Delete
CCV Mod
Firestone Ride-Rite airbags