Fuel & Toyo
---
Hey guys hope this is the correct section to post this, I am still new to this site. Had 40inch Ground Hawgs and 16.5s now has 38x13.50x20 Toyo Open Country's and Fuel Hostage Deep 20x12's. Thanks for checking it out and any suggestions would be appreciated. I am only 18 and have to fund this truck myself,so it will be extemely modded...over time.Next week should have the exhaust, chip,intake, gauges.Then maybe in a couple months a twisted diesel transmission and injectors.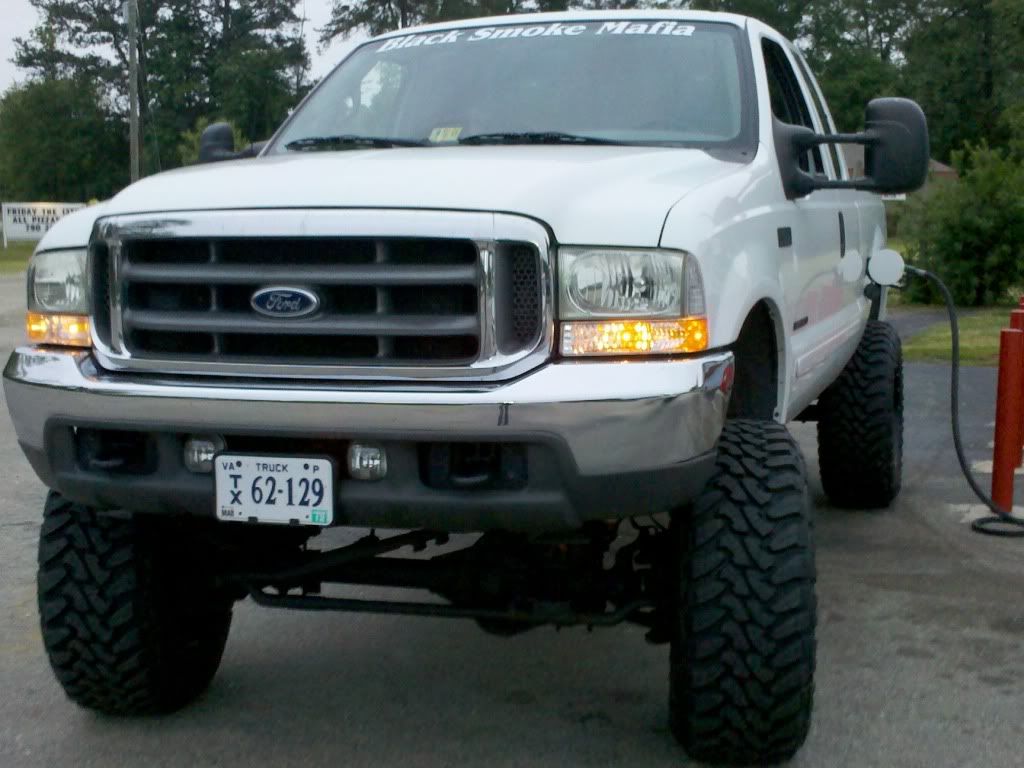 Glad to be a member
Re: Fuel & Toyo
---
Truck looks awesome! Would love to do the same to mine...but my
mpg
already suck enough!
---
People Fly Airplanes, Pilot's Fly Helicopters

2002 F350 Extended Cab Shortbed
1977 Early Bronco

Re: Fuel & Toyo
---
Thanks a lot! It gets 11-12
mpg
,but I'm sacrificing looks for practicality. I see you did the front end conversion, that is also in my future from mkm.
---
2002 White F-250 ECSB 7.3 Toyo, Fuel, Swamp,AFE,MBRP.
PSN Local
Join Date: Mar 2011
Posts: 120
Re: Fuel & Toyo
---
thats big! looks good
Re: Fuel & Toyo
---
looks great!! How much lift are you running?
---
2005 F350 Crew Cab Long bed
6.0L / Auto 4x4
SCT X3 5" Magnaflow
4" RCD lift, a bunch of stereo gear and a computer
Re: Fuel & Toyo
---
I want a 4wd
... sick truck
---
Early 99 7.3 2wd
Old truck with all the bells and whistles....
Quote:
Anyone who stands to pee drives a 7.3.
Re: Fuel & Toyo
---
Looks good and sounds right you are on the right track with the mods you have planned. If your truck is an 02 i would be careful about injectors due to the
PMRs
. I have had one of Twisted Diesels trannys for over 3 years and love it and their service.
Banned
Join Date: Apr 2010
Location: the south
Posts: 1,378
Re: Fuel & Toyo
---
Looks sick
Re: Fuel & Toyo
---
Perfect stance
---
Spending money I don't have on crap I don't need to impress people I don't know.
Re: Fuel & Toyo
---
I like the "black smoke mafia" sticker
. Please tell me you don't go running around smoking everyone out from stoplight to stoplight....