On-board charger/Block heater plug relocation
---
First off - warning, this is a long post with pics.
I do a lot of short runs which is really hard on the batteries and alternator....the massive draw from the glow plugs and starting, then only being run for about ten minutes before being turned off. That's a recipe for bad batteries prematurely, and killing off the alternator as well. With my batteries being over four years old, they're starting to have issues, and with it being cold outside, that only amplifies my issues. To add insult to injury, I damaged my block heater wiring when my serpentine belt failed. Still works, but the wiring gets too hot....so hot that the plug was softening and the blades moved when I unplugged it the other day! Time for some intervention.
My first order of business was to replace the wiring on the block heater. That was easy enough. I got 10 feet of 12 gauge extension cord, cut off one side, stripped wires, soldered them to original wiring close to the block, sealed them with shrink-tubing with built-in sealant, and then routed the cable. However, I routed it to a different location. No more excessive warming up of the wire/connector! More on the relocation part below.
My second order of business was to figure out how to keep my batteries topped off. Since I do a lot of short trips, my best bet was to charge my batteries when the truck isn't in use. However, I didn't want to have to pull out the charger, open the hood, hook it up, and then have to keep coming outside repeatedly to monitor the charge constantly. A smart charger seemed to be the way to go. I could hook it up and just leave it. It would determine the battery's state and modify the charging rate based off that, and it can be left connected for extended periods with no ill effect on the batteries. (well, supposedly...I've never found one that could truly be left on for a long period of time, but since the truck will be started nearly every day, that's not a worry) There are a lot of smart chargers out there. I wanted to get one that I could install on my truck and just plug in the truck like I do with the block heater. I chose the
Finding a location I liked for the installation was kind of tough. It's big. It's heavy. The engine compartment is packed with crap as is! I decided behind the grille was a good idea. I chose the passenger side since there is extra space over there. I don't have a picture, but pull back the rubber air dam and you will see there is a small piece of fiberglass you'll have to remove (I used a cutoff wheel on a dremel) whose sole purpose is to act as an attachment point for another rubber air dam. Once that is removed, you will have enough room for the charger...barely.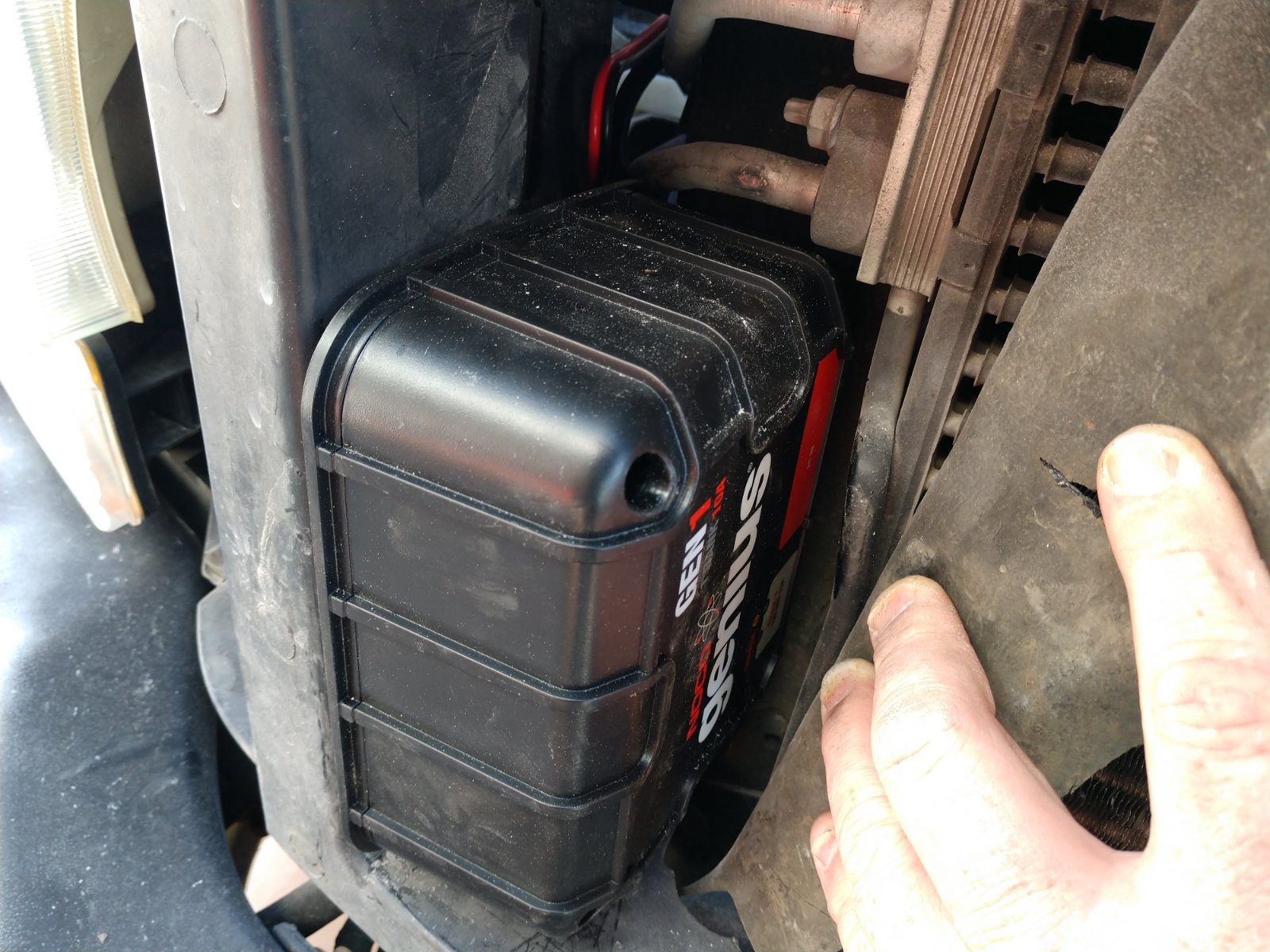 You can see it's a tight fit with the air conditioner lines coming really close. Also, in this next pic you can see a good routing hole for the charging wires...or rather one of them. Per guidance from a variety of sources, I ran the negative cable to one battery and the positive to the other. This is supposed to give more even charging for dual battery systems.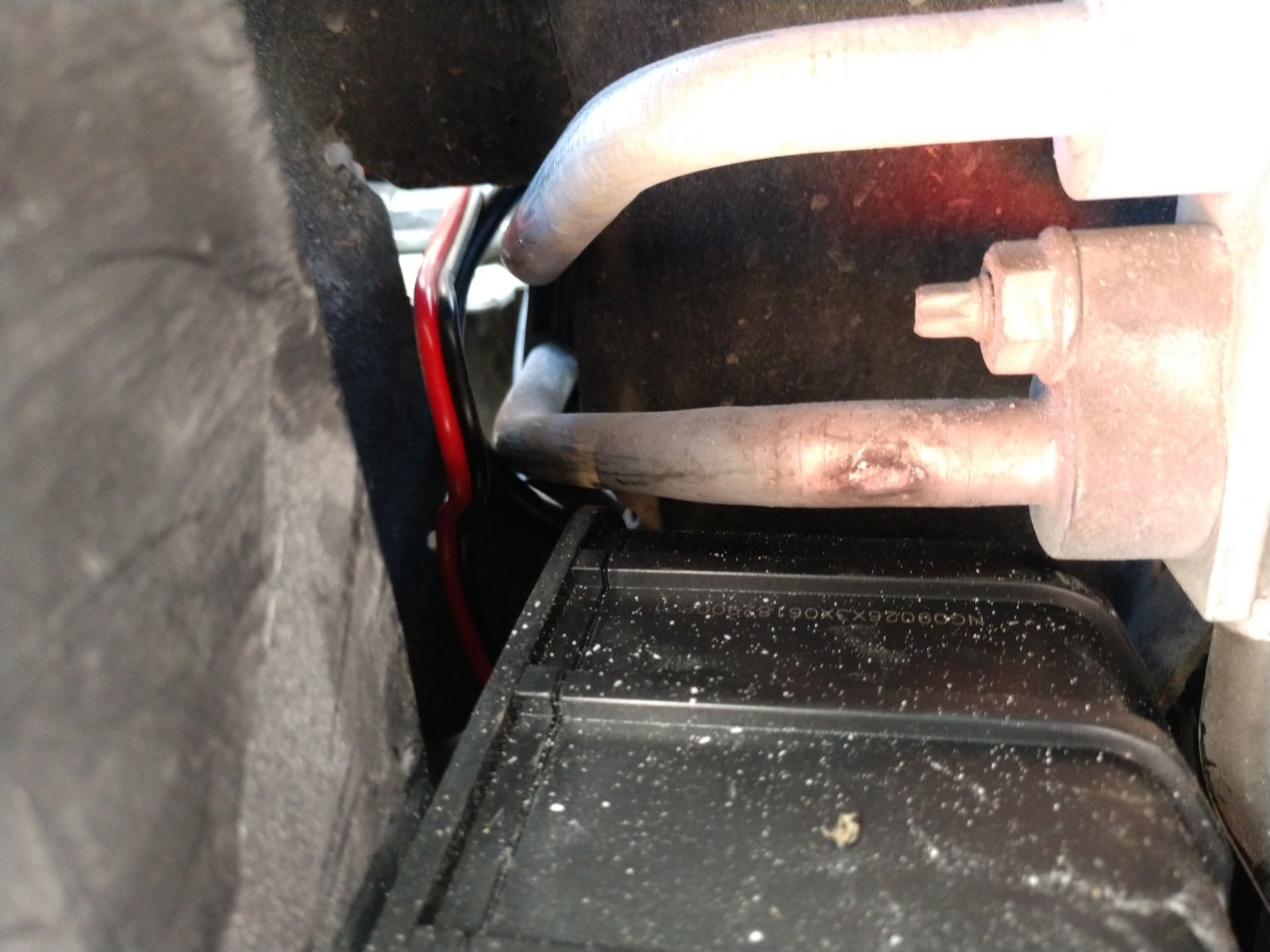 A pic of how it looks with the air dam trimmed and tucked into place.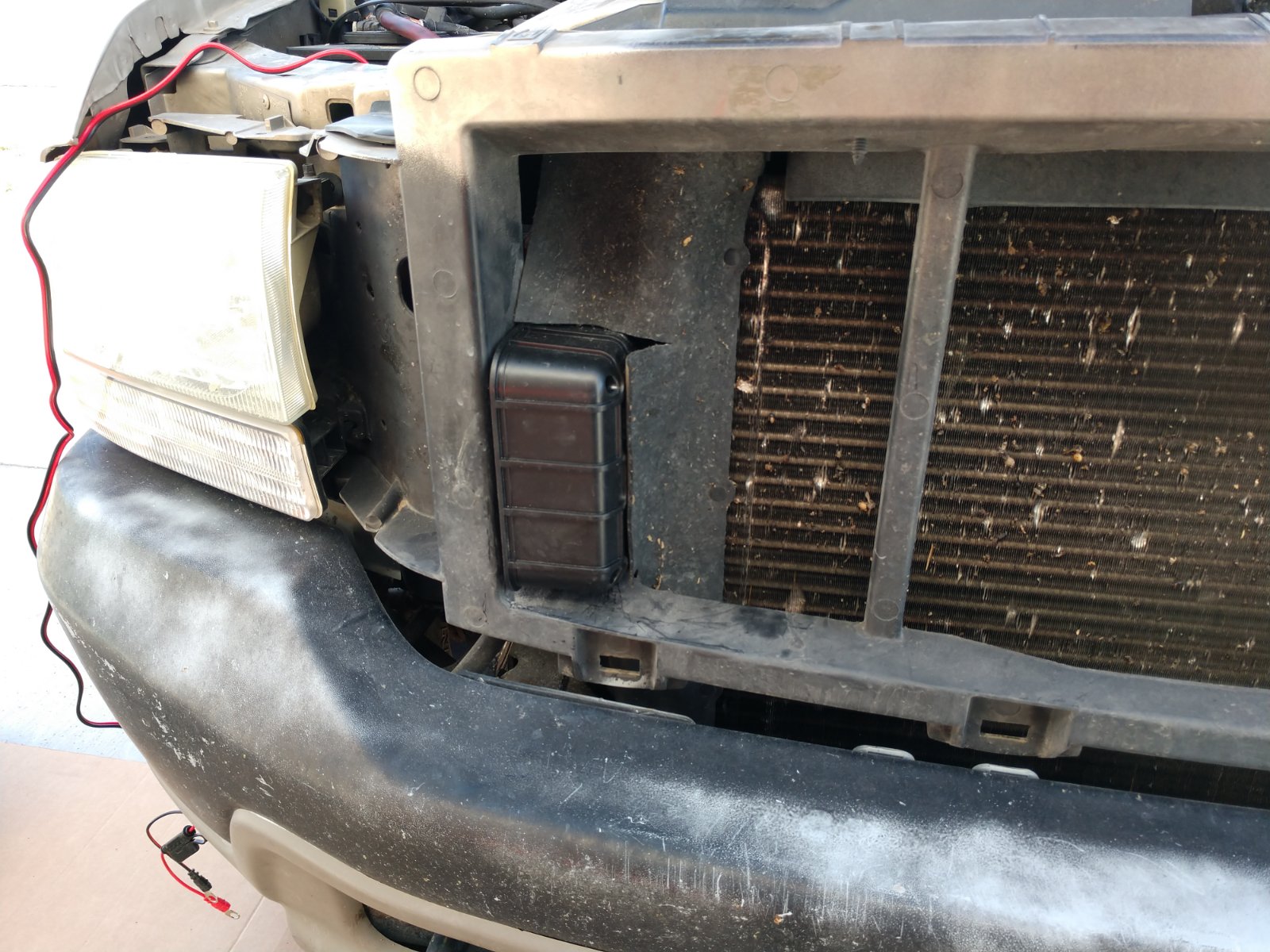 I cut a small hole in the air dam so I could readily see the indicator and warning lights, letting me know if everything is good or if I have a problem.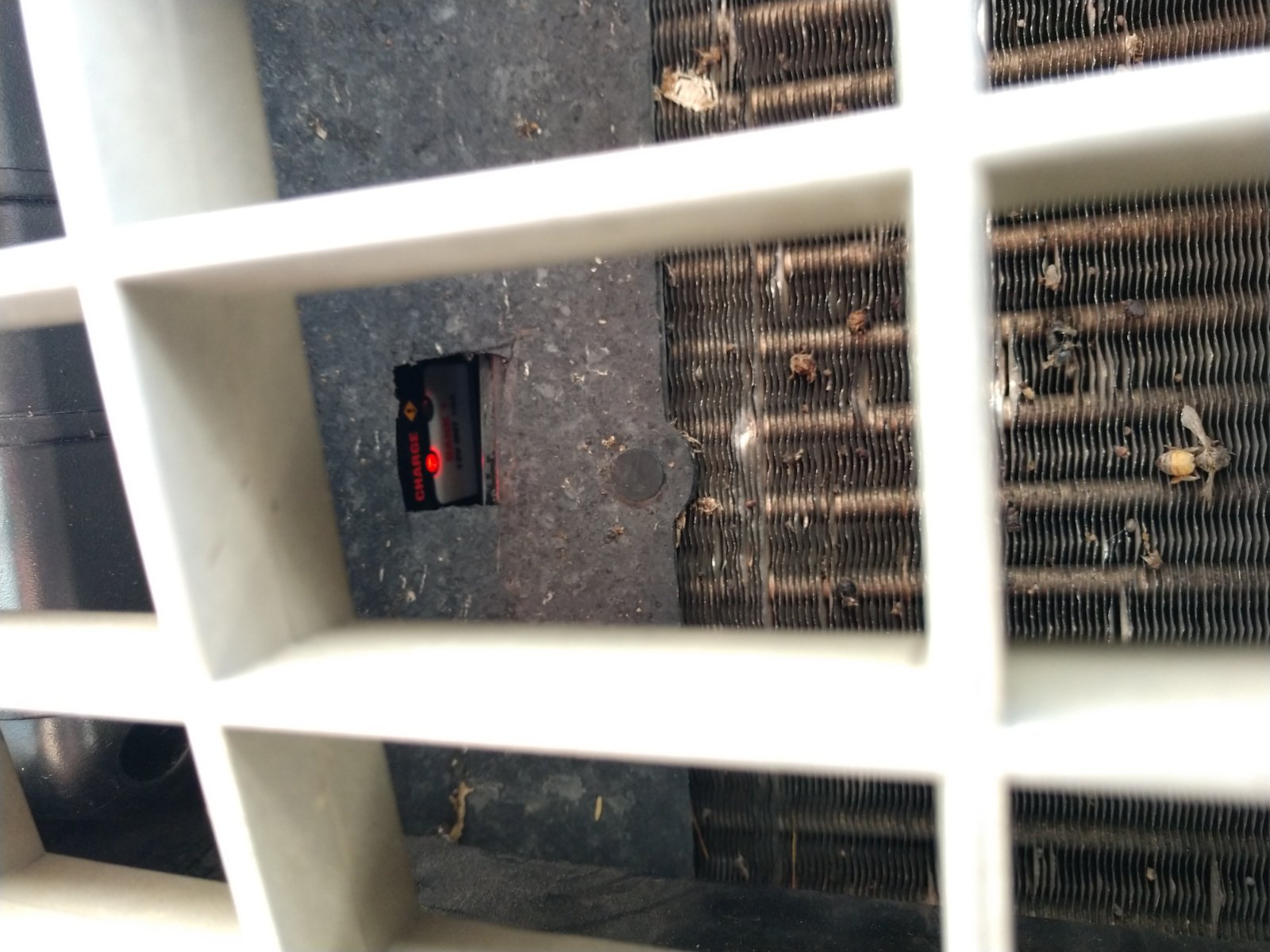 I neglected to get a picture, but the power cable for 110 was ran just a little bit to the right, then up over the intercooler support, across the radiator support to the driver's side, around another support bracket, and out a hole in the front right around where the air filter draws air from.
On the grille in front of that little spot is a small opening with a grille insert. Well, mine has been missing since the day I bought it, so I thought it would be a good idea to build an insert and run my two plugs through there. Yes, I said two. I decided this was where I would route my block heater. No more bending over for this crickety old back! lol I didn't just want a block-off plate with two cords hanging out though. I wanted it to look decent too...though I'll have to go back and improve the looks, though it's not horrible. Anyway, I decided to get some pass-through marine plug adapters. They allow you to use the plug you currently have and secure it to the pass-through. No cutting of wires required!
Minn Kota MKR-21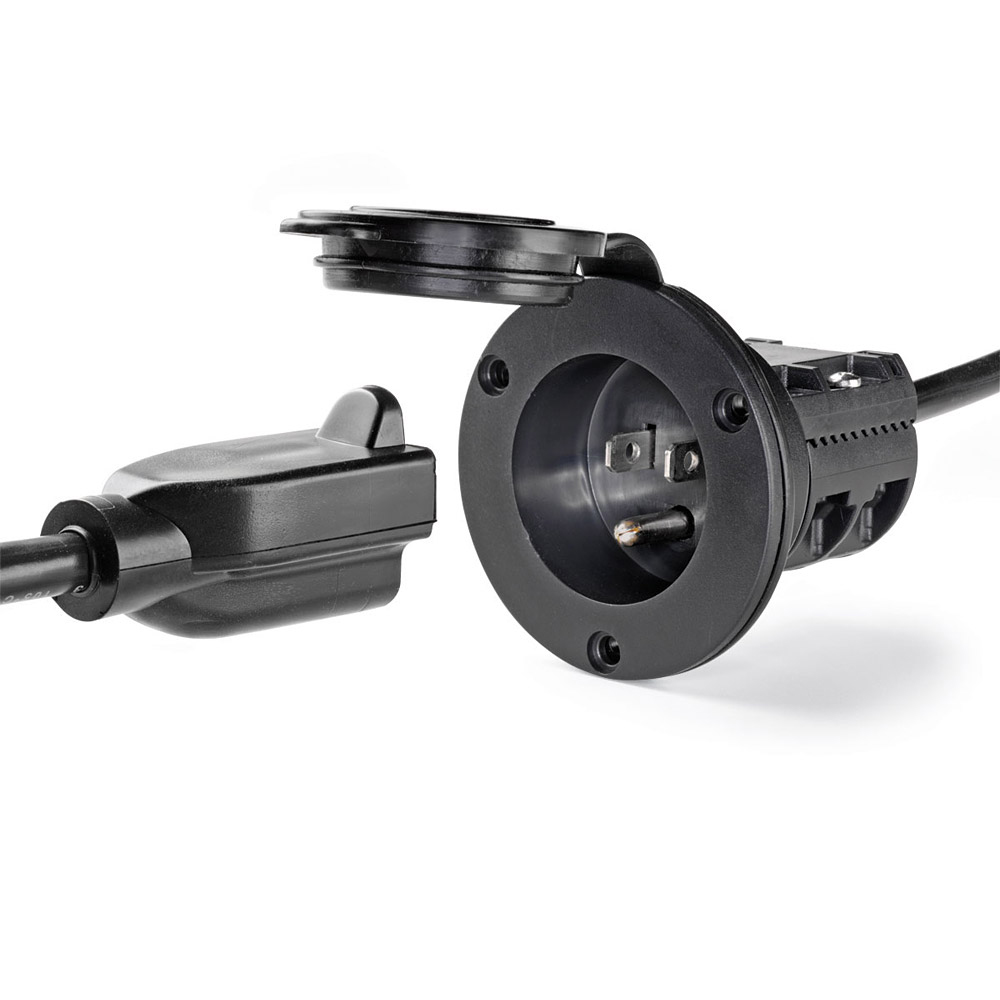 You can see here how to plug from the cord fits into the back side. There is a screw-in fitting which secures it in place. I didn't snap a pic, but I also opted to seal around the plug with silicone after it was installed.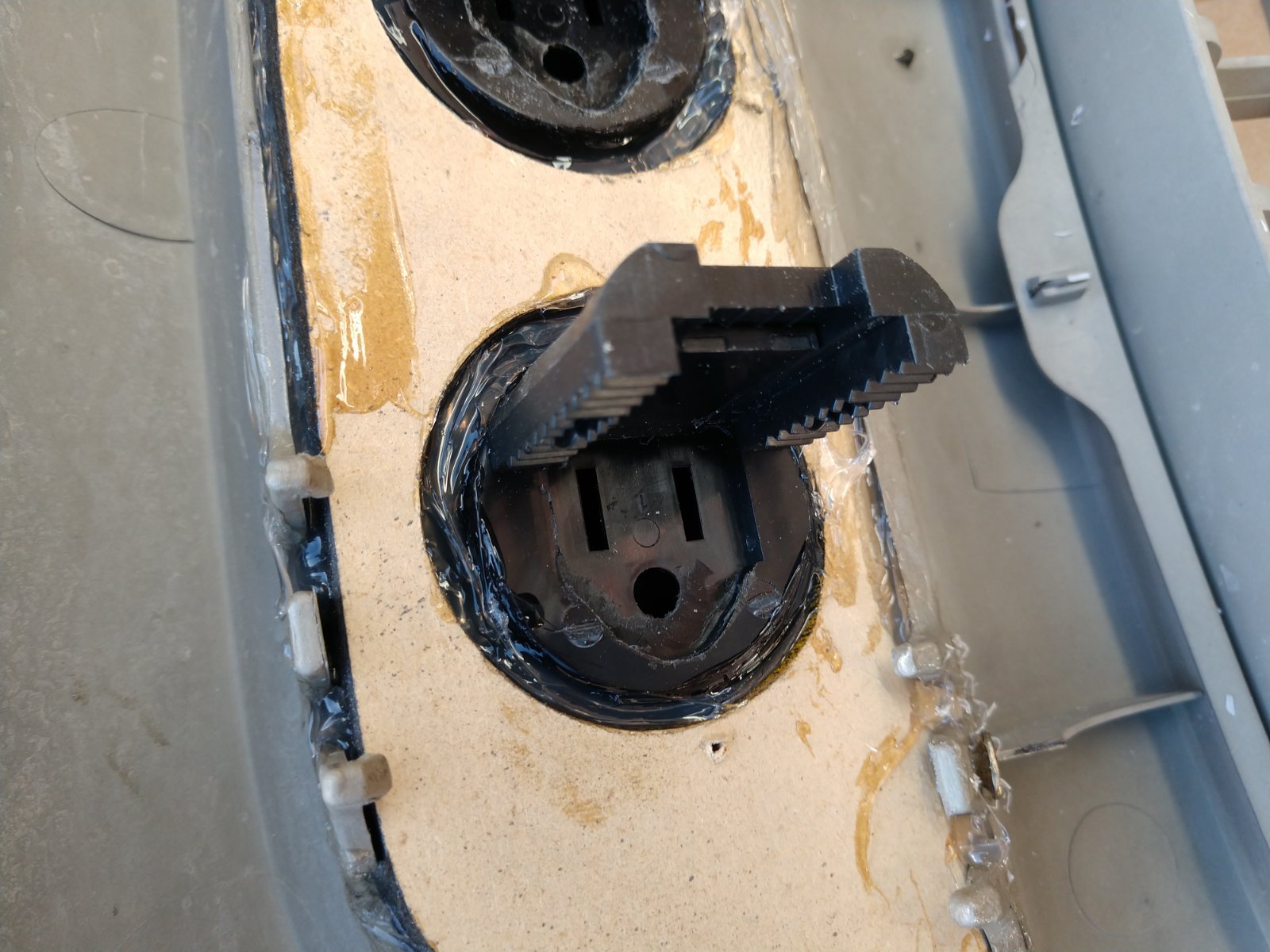 A pic of both installed. Also, even though it's not done in this pic, I highly suggest you seal any kind of wood used which will be exposed to the elements. Generally I use fiberglass resin brushed on fairly thin, but for this I wound up just spreading some more silicone with my finger along the back, and then painting the front followed by sealing it with a urethane clear coat....which I promptly screwed up, hence why I will have to fix this again later. lol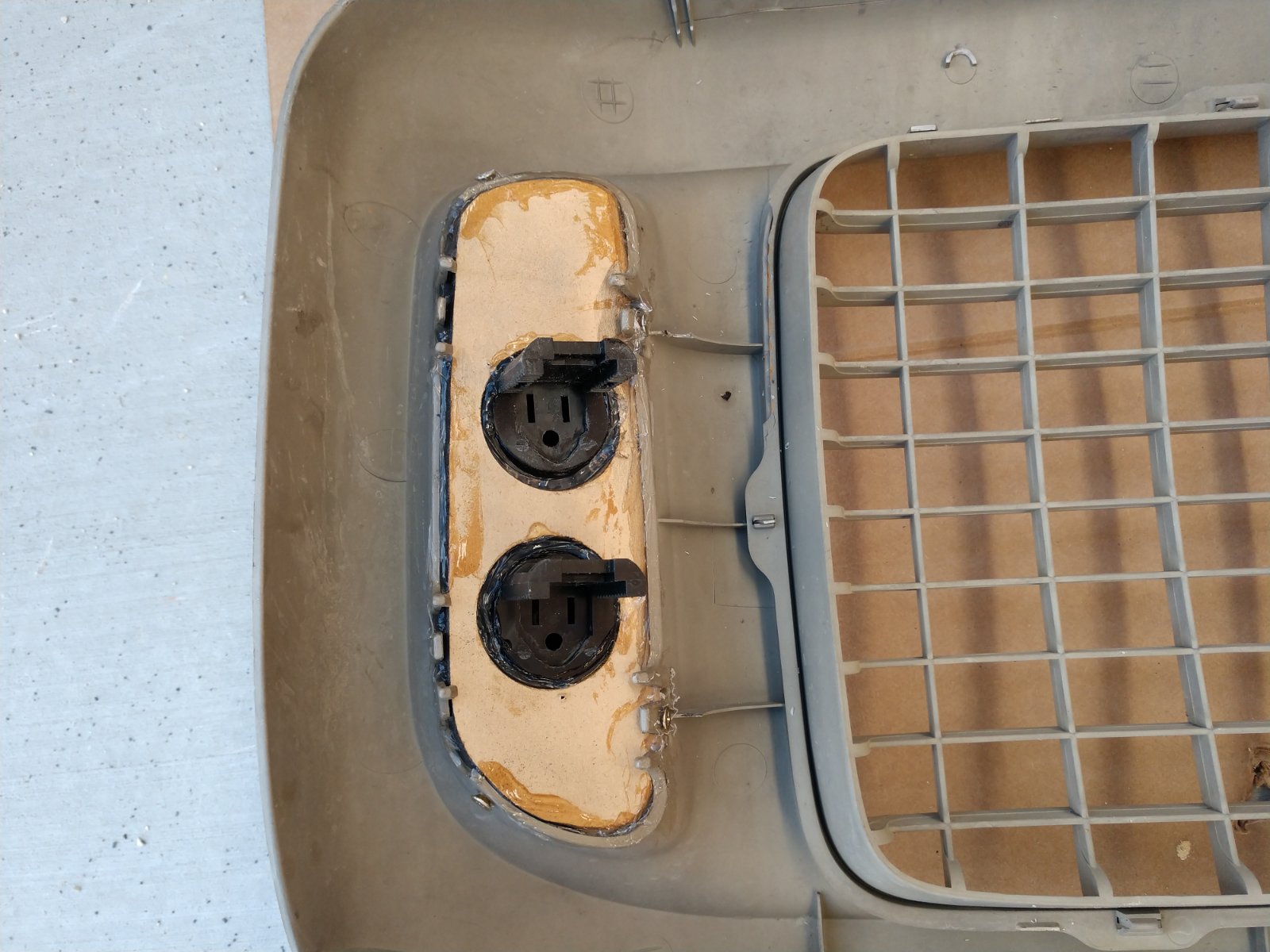 Some pics of what it looks like when the watertight cover is lifted both with and without a plug installed.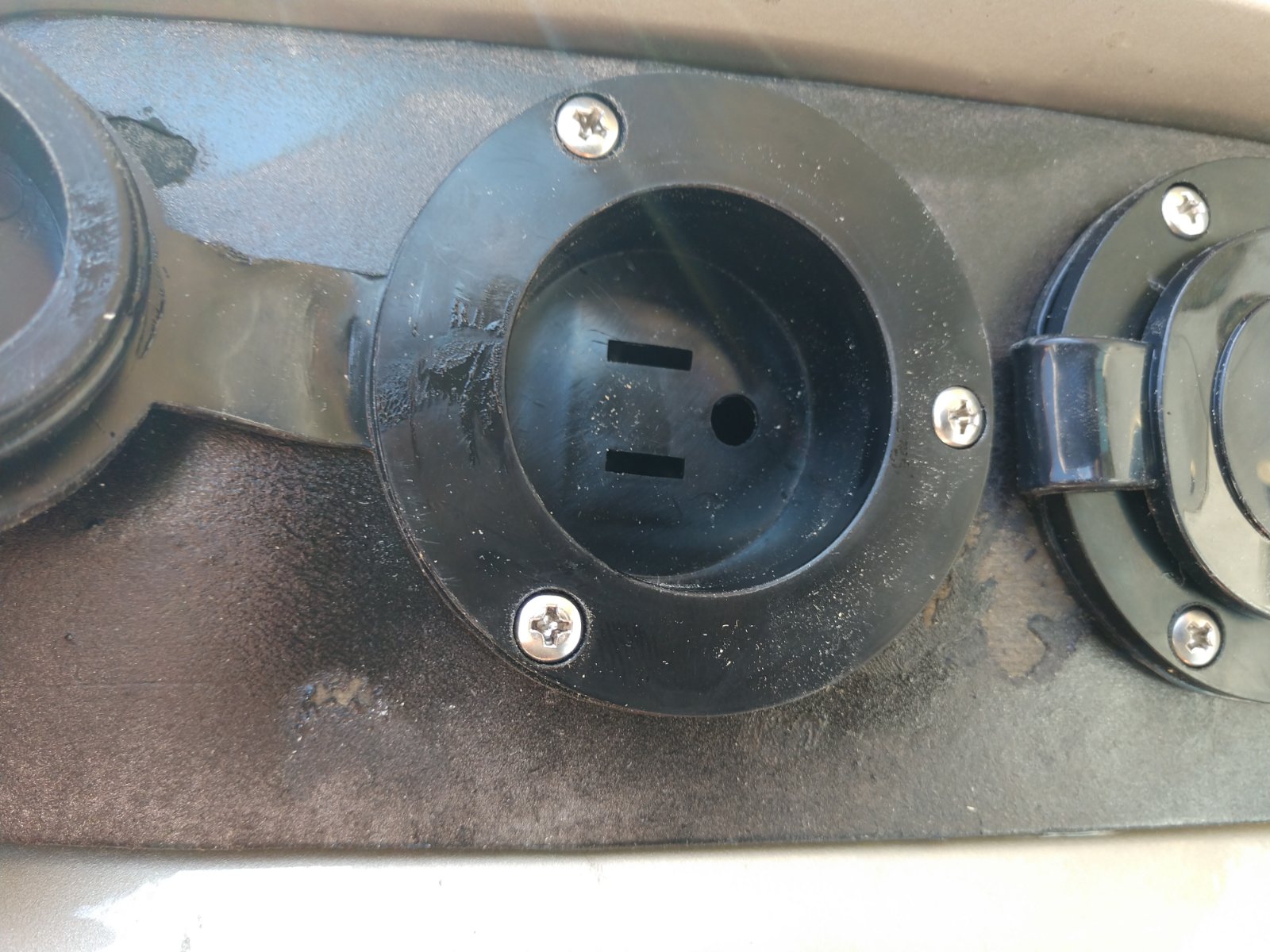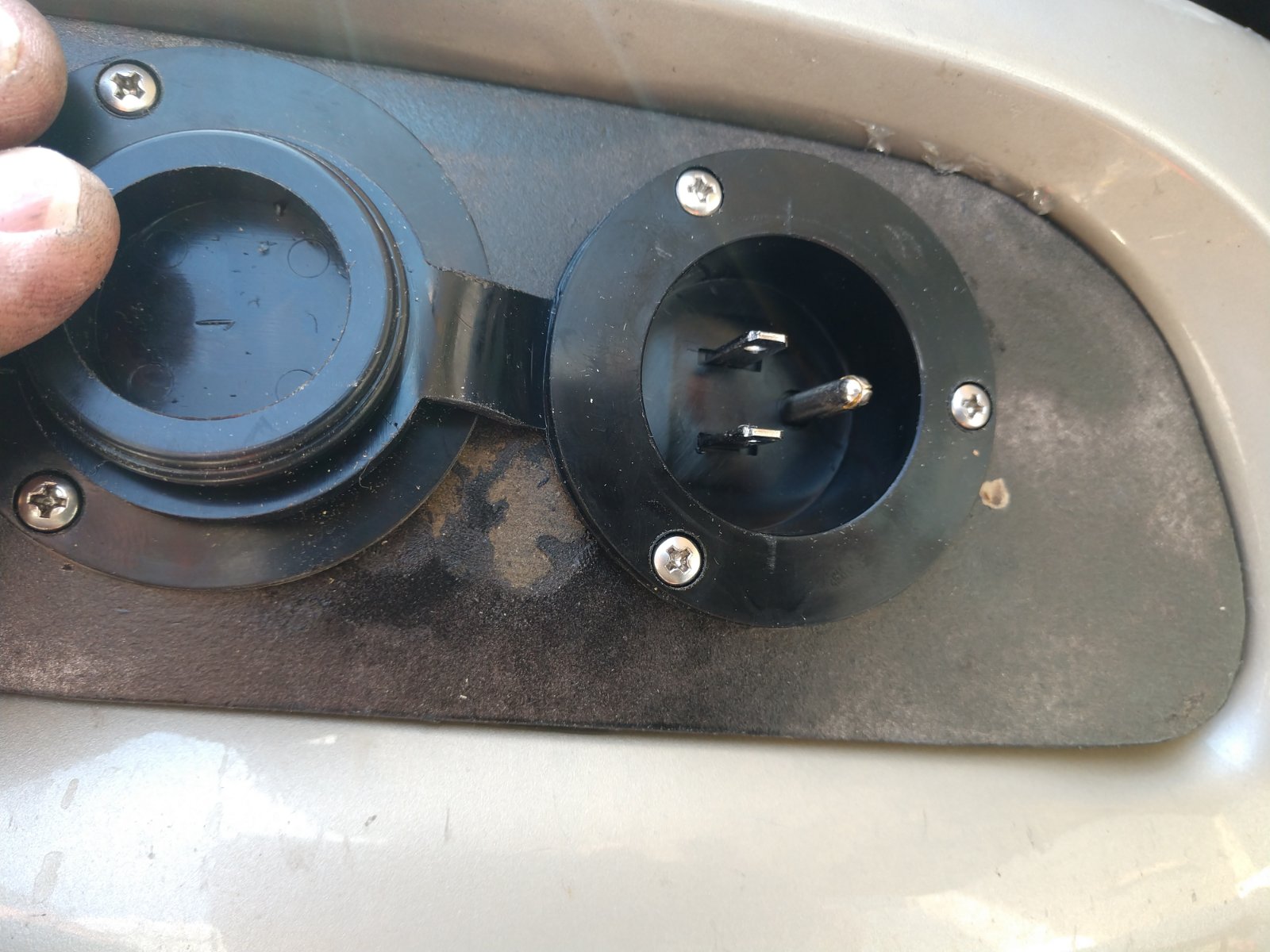 And finally a shot of it installed on the truck.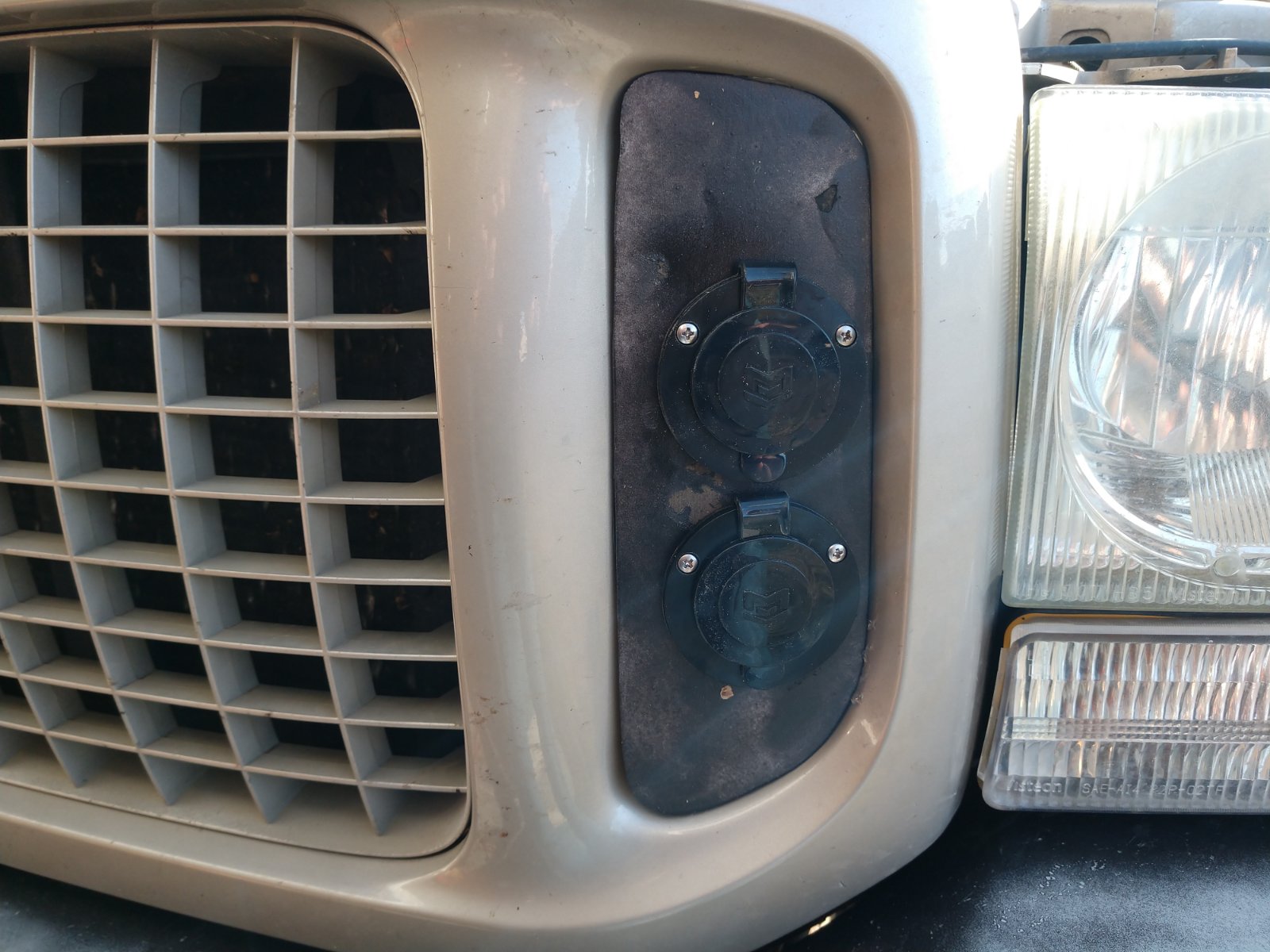 Overall, I'm happy with the outcome. Needs a few tweaks. Might re-do the grille insert, and when I do, change the angle of the pass-throughs. As they sit now, the power cords rub on the fiberglass support piece directly behind it. Re-angling will alleviate that. Could also use a little better shaping, but what I wound up with isn't so bad of a fit considering I used a jigsaw and some sandpaper on a piece of 3/4 MDF. lol Anyway, just sharing for those who might might be thinking about something similar or who might need ideas for other projects. As for how well it works, well the block heater works flawlessly now (it did before, but now the cord doesn't get hot), the battery stays topped off (still going to need new batteries soon anyway), and the task of plugging and unplugging is actually quite a bit easier now. Plus,
IMO
it just looks neat. lol
---
2004 Excursion 6.0
New HPOP/HPO system o-rings; Updated standpipes and dummy plugs
EGR delete; Rebuilt oil cooler; CCV collection mod
VR Black Diamond head gaskets and ARP studs
Oil and coolant bypass filters; Shell EC-1 coolant
Rebuilt turbo; 250 amp alt; 6000 watts of brain scrambling
One giant 240 pound English Mastiff riding shotgun!
Re: On-board charger/Block heater plug relocation
---
what i did was put a short cord 4 outlet power strip behind the grill and plug the battery maintainer and into it. then i just plug the power strip into the extension cord. when it is cold and i need the block heater like before it snows, it is very easy to plug it into the power strip.
otherwise the block heater is unplugged and i just have the battery maintainer plugged in.
---
tom
owner of almost to many fords.



If you want the moral high ground, make sure you're not standing on a hill of horsecrap.
Re: On-board charger/Block heater plug relocation
---
NOCO makes the best chargers
IMO
my truck has two banks i have not wanted to spend the extra coin for their two bank .. yet
---
,
,
,
,
DTR's Donation page

To view links or images in signatures your post count must be 10 or greater. You currently have 0 posts.

RIP DTR Ron
you are missed and will live on through your great video library contribution to the DIY community

To view links or images in signatures your post count must be 10 or greater. You currently have 0 posts.

Re: On-board charger/Block heater plug relocation
---
That is the same setup I am gathering for my trucks also. I agree with ZMANN on the noco chargers, and will be getting the 2 bank one just not ready to spend the money yet.

I did like your install by the way.

Sent from my super awesome outdated Samsung phone while waiting for masakimms# 500mA overdraw draw to catch fire which turd will be blamed for and we will be sitting on dustybumpers tailgate watching the fire and plotting against yommy.
---
96 F350 rclb drw 2wd psd (built not bought)
01 Excursion Limited 4wd psd (the wifes ride)
02 F350 cclb drw 4wd psd (the land yacht)

To view links or images in signatures your post count must be 10 or greater. You currently have 0 posts.

PSN Newb
Join Date: Jan 2019
Posts: 1
Re: On-board charger/Block heater plug relocation
---
i did somethign similar - 4 mile commute to work.
i mounted the 4 amp NOCO on top of the
ABS
module, hard wired to the drivers side battery.
used an outdoor triple tap for that, and the block heater. tossed a spare outdoor Z Wave switch on the block heater plug so it only turns on under certain conditions.
one plug in the same spot as my block heater plug was, everythign zip tied out of the way and all i do is plug it in when i get home from work.