6.0 Oil Temps now working on ScanGaugeII
---
I just bought the ScanGaugeII last week and was disappointed that I was unable to read the Oil Temps with it. I just got an e-mail with the new codes and mine is working now. I have had an average reading of 190 on the Coolant and the Oil has been 194. Have not loaded truck down, but on a steep long grade I pull the Coolant to 193 and the Oil to 199. Both came back down to normal quickly. 6 degrees is the largest gap I have seen most of the time it is at 4 degrees.
Those who own the ScanGaugeII here is the Codes for the X-Gauge for the Oil Temp
TXD: 07E0221310
RXF: 046205130610
RXD: 3010
MTH: 000901F4FFD8
NAM:
EOT
My Strategy is VXAP1 no update sense 2006
on the ScanGauge menu>more>more>code It displays CANSF and the PID is set to ALL.
After searching all the Diesel forums and not finding anything I thought I had wasted my money on the ScanGaugeII, but I have the info I need now. Now to get a Pyro Gauge
---
2003 F-250 CC SB 4X4 Purchased new 6/18/2003 Sonic Blue XLT Sport Package Automatic 26,250 miles July 1, 2010
Re: 6.0 Oil Temps now working on ScanGaugeII
---
gotta look into that. had put mine away cause never read up on it enuf to get to that point. thanks for the inspration!
---
2004 E450 Cutaway, 6.0L, quigley 4x4, ambul pkg., maxbrake cntrlr, curt 20k 5th whl. Future mods: 52" slpr, frame cover. Herd frt bmpr?
2003 E350, 7.3l, x-cargo
2003 JEEP, 17" Blk Moto Mtl 951's plugn 33" FC-II's, oops, not any more
1986 26' Seaway Northstar
2008 Montana Mtn'r 332PHT
1991 GMC Topkick, CAT

To view links or images in signatures your post count must be 10 or greater. You currently have 0 posts.

Re: 6.0 Oil Temps now working on ScanGaugeII
---
would love to get one of those scan gauges some day.

Temps look right in line with what I have been seeing, with my Isspro gauges, 190's on both coolant/oil when all is well with the world.
---
2005 F350 Crew Cab Long bed
6.0L / Auto 4x4
SCT X3 5" Magnaflow
4" RCD lift, a bunch of stereo gear and a computer
........
Join Date: May 2008
Posts: 1,079
Re: 6.0 Oil Temps now working on ScanGaugeII
---
I read this from the OP, on another forum, and the code works.
Re: 6.0 Oil Temps now working on ScanGaugeII
---
Snapped a picture of ScanGaugeII Oil and Coolant on right Volts and Transmission Temp on left side.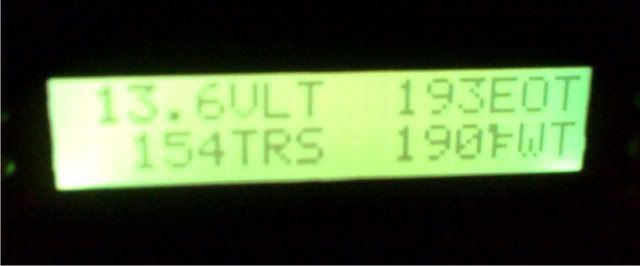 ---
2003 F-250 CC SB 4X4 Purchased new 6/18/2003 Sonic Blue XLT Sport Package Automatic 26,250 miles July 1, 2010