My d.i.y. ARP install
---
About 3 months ago I had noticed oil in my coolant after a 12 hour ride pulling a cigarette boat. Right then and there I knew my oil cooler was toast. The following weekend after my voyage with the cig boat I took my truck through the Loranger Mud Bogs won 2nd place. And the weekend after that was Bash on the bayou hosted by Tank. Participated in the drags and the burnout competition, so after all of these festivities and 165k my stock gaskets and bolts finally took a ####. I have had this truck since I was 16 and it is my baby. Now that I am now 20 I want to keep it around to show my kids when I'm older after hearing my dad and uncles gripe about getting rid of there first vehicles one being a 69 challenger haha. This is going to be a thread about the progress and problems (that hopefully will stay to a minimum). Open to any and all suggestions.
First night Brandon and Chase and I got the front end off in about 3 hours. Gonna wind up pulling the block checking all seals and paint it and what not.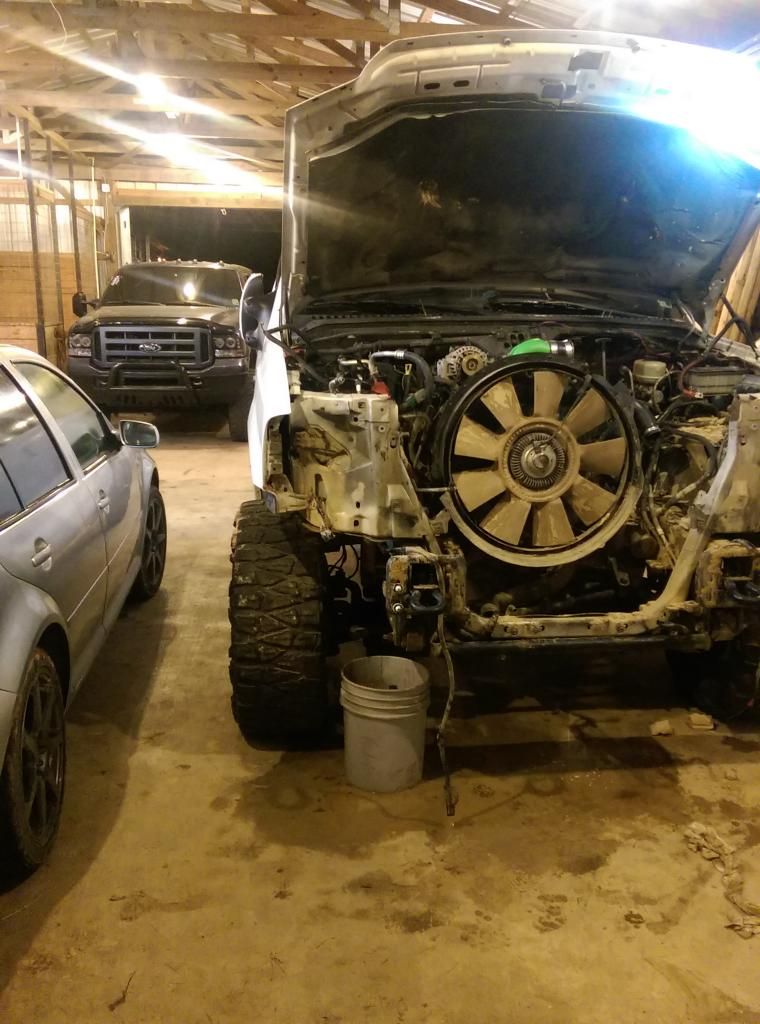 Re: My d.i.y. ARP install
---
---
SCT, no studs...yet, Dual OEM intake air filter housings, Banks intercooler & intake elbow, Banks exhaust syatem, Windrunner ported intake manifold, Bullet Proof Diesel remote oil cooler & thermostat, AirDog2 (plus a couple spares), Power steering filter (Amsoil dual-bypass), MagTec deep ATF pan, Electric oil pre-lub pump, Dakota Digital gauges.
PSN Newb
Join Date: Jun 2014
Posts: 3
Re: My d.i.y. ARP install
---
sub'd. x2...don't be stingy with the pics!!
Re: My d.i.y. ARP install
---
Lots of you tube videos.
---
06' F250 Harley Davidson Edition(Factory 2.5" lift)CCSB-blue sping kit, ARP, gaskets up, Driven Diesel Coolant Return, Sinister Diesel Coolant filter, Rotella ELC, SCT X4, 55gal Aluminum Fuel tank, B & W turnover. ...Hauling New RV's daily.
02' F250 687,000 miles towing...traded to friend for a boat
Re: My d.i.y. ARP install
---
Sub'd
---

USMC
05 F250 6" LIFT,
CUSTOM FUEL SYSTEM
GAUGES, FUEL,TRANS,OIL,PYROMETER,BOOST
FLUID DAMPER
SCTF3 TUNE
HELLMANS SUMP
4.10 GEARS
UCF Oringed heads with +625 studs
MBRP
EDS FICM
PHP
Warren 175/75 INJECTORS
APEX PORTED MANIFOLD
OUO RADIUS ARMS
BPD RADIATOR
ALRADCO INTERCOOLER
RCD 68/BATMOWHEEL
TWISTED STG 3 TRANS W/P&I CONVERTER

Re: My d.i.y. ARP install
---
Alright so a little update. This is a weekend project that just took a turn for the worst
The first post I included a picture showing the front end coming off, that was the bumper grill headlights, header panel, radiator, inter cooler,
ac
condenser all that stuff.
This is the engine bay with the batteries, degas, air intake, removed.
Here is the engine bay with the fan assembely removed. This video helped me get it off instead of torching it off lol. It is reverse threaded for the record.
https://www.youtube.com/watch?v=a7z8fob1eVg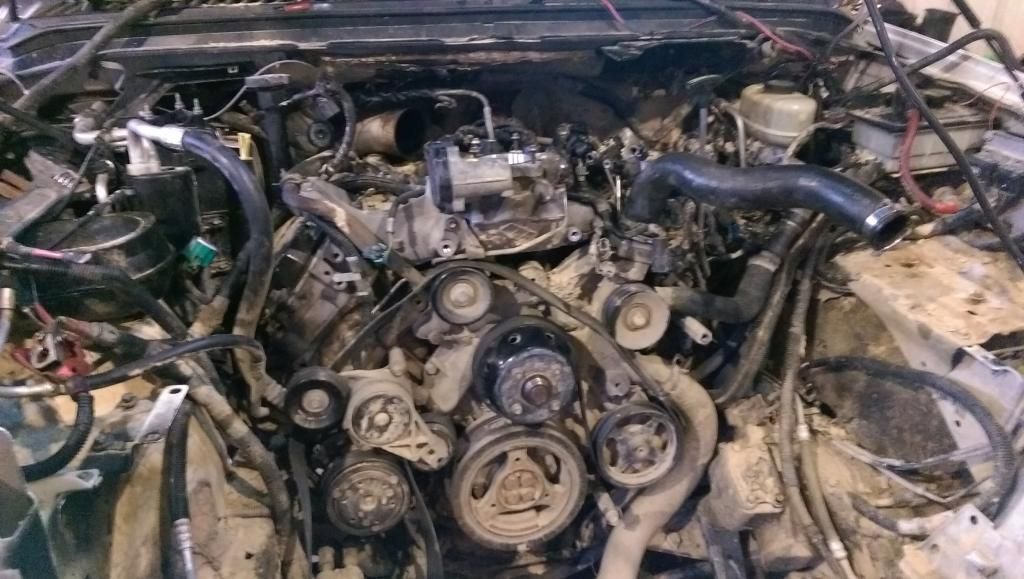 Turbo,
ficm
removed, and glow plug module removed.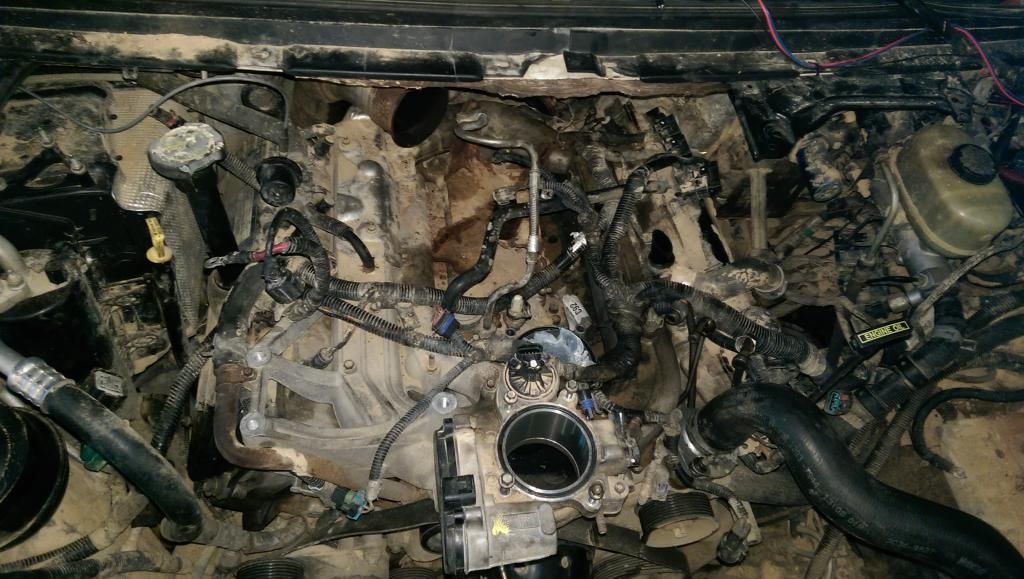 In this picture I was removing the engine harness. The plug my hand is on is the one that runs to the crank sensor conveniently located behind the
ac
clutch. Glad it never went out. It is getting changed now because of the location.
Here is the crank sensor after the
ac
clutch was moved to the side.
Here we can see how muddy my engine compartment is and my main reasoning for pulling it, to clean and paint along with studs.
Busted the turbo open to check the vanes and clean. Never did have any issues with boost.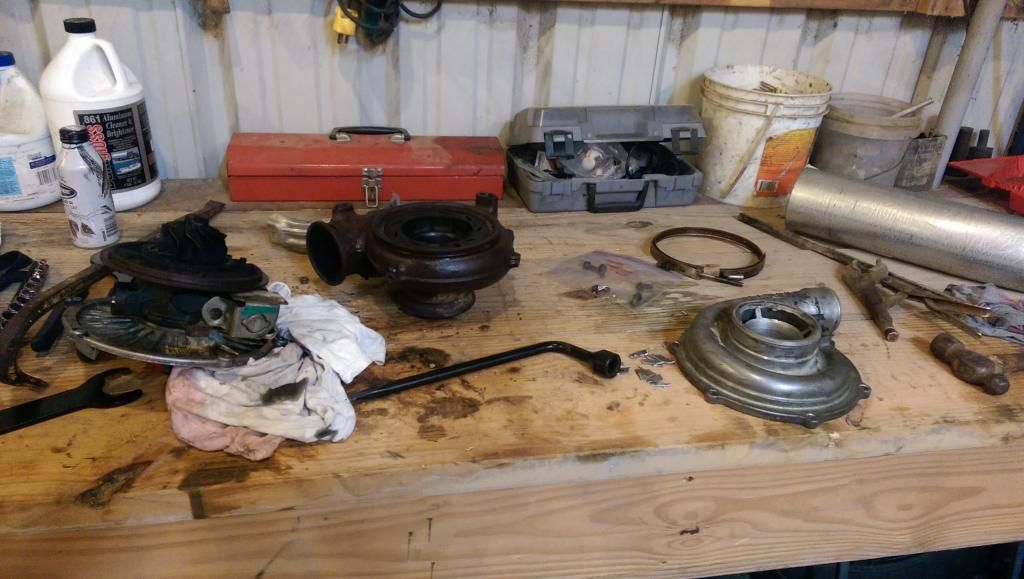 Re: My d.i.y. ARP install
---
Nice. Cant wait to see more pics.
---
07 CCSB 4x4 Lariat FX4 Bronze Metallic/Sage
To view links or images in signatures your post count must be 10 or greater. You currently have 0 posts.

Re: My d.i.y. ARP install
---
Next step is removing the 11 bell housing bolts and starter.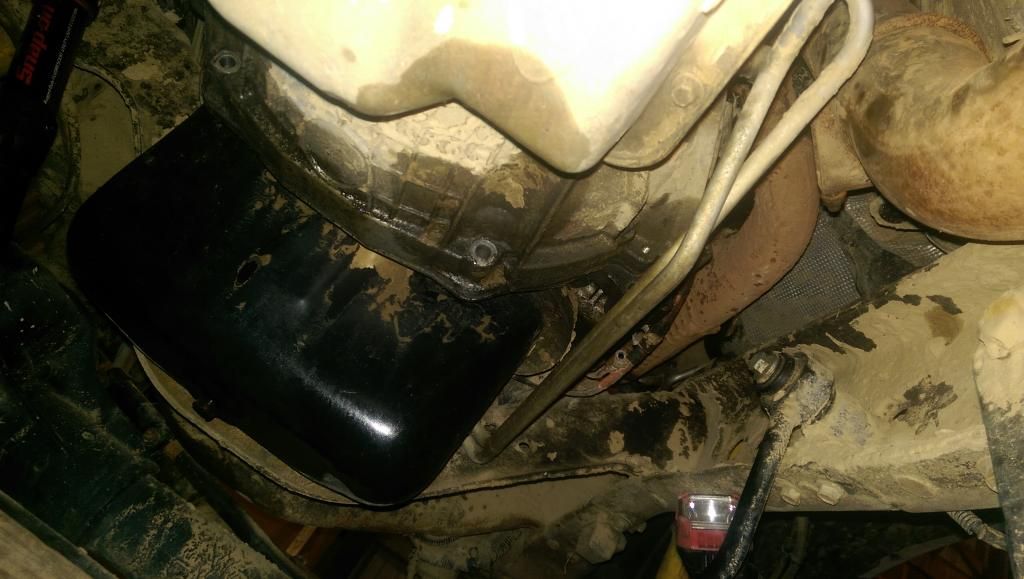 Here is a picture of the access panel to remove the 6 torque converter bolts. It is located on the driver side of the engine right above the frame. You are going to need about 3 feet worth of extensions to reach the torque converter bolts from the front of the truck.
View of the torque converter access panel from the driver side motor mount.
I would say it is easy to forget about the pyrometer so while you are pulling the access plate of it is a good idea to remove it.
It is finally ready to come out. Just remember fuel lines, harnesses,
egt
probe, 6 torque converter bolts, 11 bell housing bolts, and she should be free trans dipstick. Removal of motor mounts is necessary, the up pipes will give clearance issues but the motor can be pulled with them in place along with the down pipe staying in place. Also I took a ratchet strap to take the strain off the transmission cross member. The strap allows me to roll the truck around the barn as needed.
Finally out, you can see the ratchet strap in place.
It was like installing a leveling kit when this thing came out. My poor leaf springs..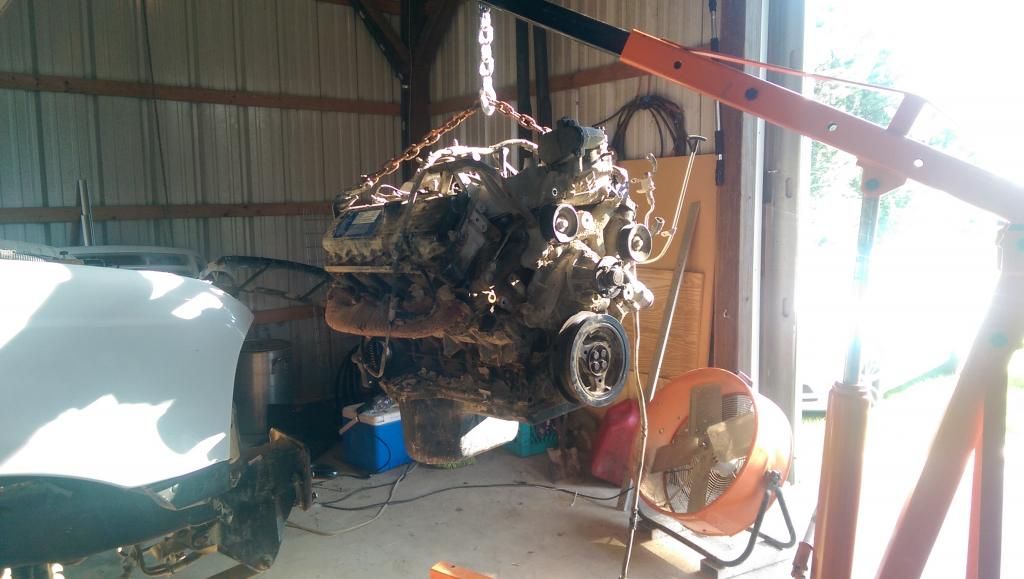 Damn this thing is dirty.
Hung the engine from the tractor and pressure washed and used degreaser to get all the mud and grease off and man it looks like new.
Pulled the valve covers, injectors, and glow plugs so far so good.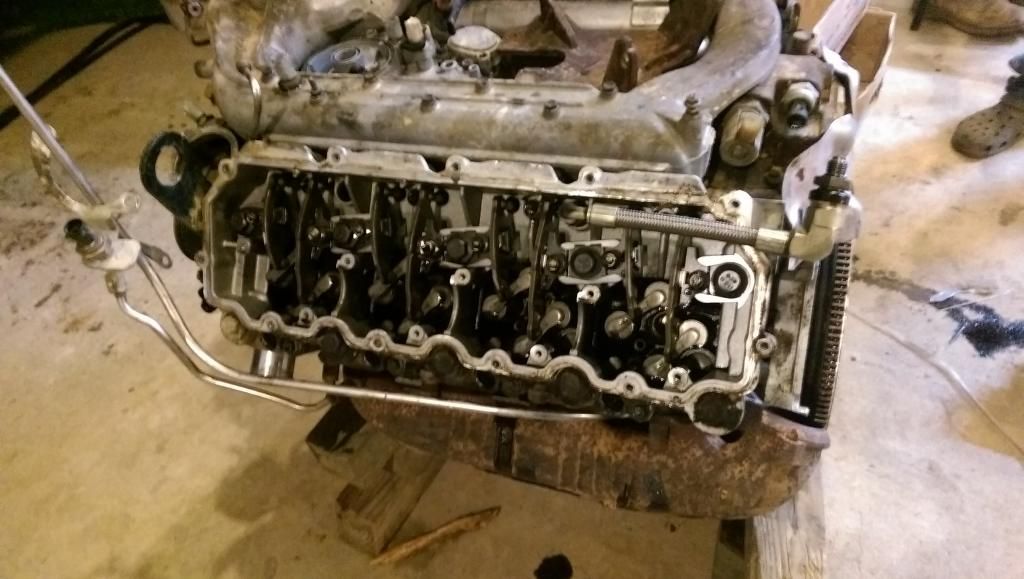 Keeping everything labeled is key.
Tailgate being put to work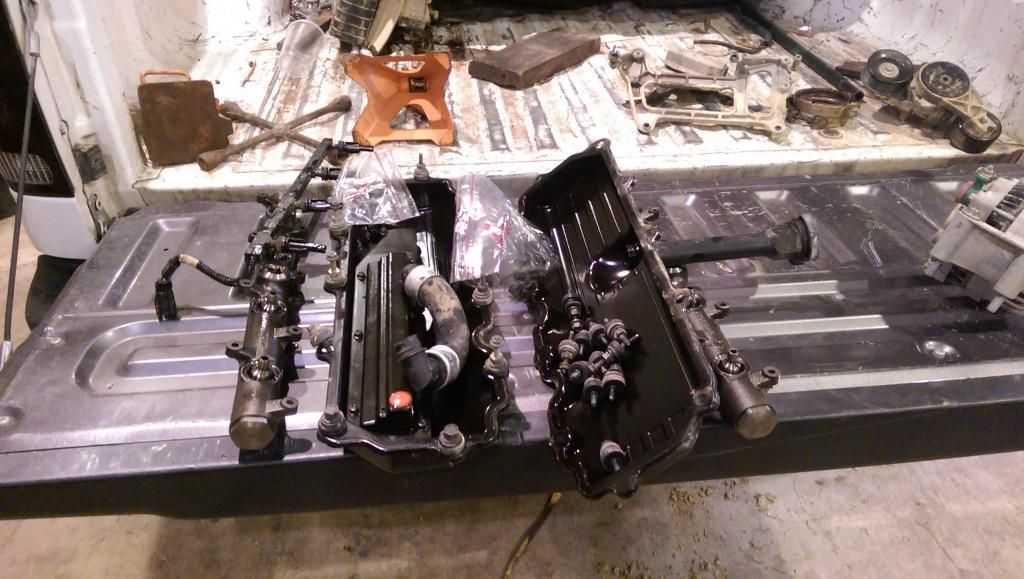 Brandon beat me to the motor and pulled the intake, push rods all that stuff. pulled the heads and reached a stopping point.. decisions decisions..
Probably a broken injector tip from previous owner. Good news is that the cylinder wall is unscathed by some miracle..
Re: My d.i.y. ARP install
---
Is that a piece of a valve?


Sent from a phone I found at the bar
---
05' 6.oh yeah, CCSB, 4x4, medium wedge wood blue, studded, 03' turbo with Barder billet wheel, BPD external oil cooler, BPD egr cooler, BPD water pump, BPD 58v ficm, BPD aluminum radiator, OEM updated everything, fluidampr, 6.4 banjo's, blue spring kit, riff raff boots, 5" diamond eye exhaust no muff no kitty, 6" icon lift on toyo 325/70/17's.